The Pros & Cons of a Tablet PC
by Michael Cox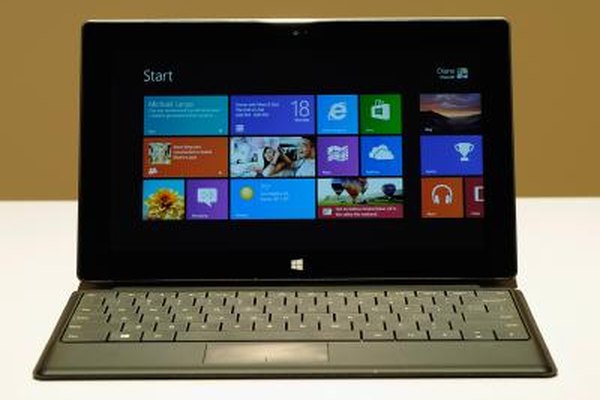 The explosion of tablets in the marketplace can't be denied: the iPad, Kindle Fire and their kin made up 22 percent of all computer shipments in the second quarter of 2012, according to research firm Canalys. While tablets can't do everything a laptop or desktop computer can, some tasks may be easier or more enjoyable on a tablet, and the gap is growing smaller with time.
Form Factor
Easy to carry and store, slim, light 10-inch tablets generally weigh less than two pounds, smaller than the lightest "ultrabook" laptops, with 7-inch tablets clocking in at mere ounces. A tablet's size and weight makes it convenient for showing off photos, personalizing sales presentations or reading e-books. Restaurants have used tablets as menus, and the FAA allows airline pilots to use them to view aeronautical charts. Tablets are made to be held, so for hands-free viewing you may need to buy an easel or stand. The downside to the compact, portable form of a tablet is the high potential for theft, including high-profile cases such as TSA officials accused of taking passengers' iPads at screening checkpoints in September 2012. Their popularity and resale value make tablets very attractive to thieves. Precautions such as using tracking apps or registering your device's serial number may help you recover a stolen tablet, however.
Input and Output
When Microsoft originally unveiled its tablet operating system in 2002, screens used pressure sensitivity, and a stylus was required to interact with the devices. After the iPad's unveiling in 2010, your fingertips have been all the equipment you need to use a tablet, which responds to the mild electrical charge within your body. Some users find it difficult to type using an on-screen keyboard, requiring a separate third-party keyboard to provide tactile reinforcement for writing notes or email. Some tablets, such as the Microsoft Surface, are compatible with optional covers that double as a keyboard, making the result look like a super-thin laptop. While a tablet doesn't offer the same number or variety of inputs and outputs as most laptop computers, the design is intended for portability and wireless use. However, some manufacturers include memory card slots and full-size USB ports that accept flash drives. Most tablets also include cameras, and some have an additional camera on the front for video chat or self-portraits. Connecting to audio or video devices and even printing may be done wirelessly from many tablets, either using Bluetooth or native software such as Apple's AirPlay.
Software
Compared to desktop and laptop computers, tablets suffer limitations of their software. With few exceptions, tablets use a mobile operating system such as iOS, Android or Windows RT, and apps must be purchased from a dedicated app store. Tablet versions of apps are greatly simplified, compared to the desktop versions. While this keeps the tablet simple to use, it also means features you're used to on your laptop simply don't exist on your tablet. Apple has strict requirements for apps available in its iTunes Store, which is the only place an iPad owner can download apps. This minimizes the chance of a virus infecting your tablet but limits the capabilities of some apps. Google keeps a much looser grip on Android app makers, and you can buy apps from other outlets, such as Amazon's app store, but that may increase the risk of installing an app infected with malware. Both Android and Apple boast hundreds of thousands of available apps, many of them free, although the much newer Windows RT is catching up, as of November 2012.
Suitability
To determine whether a tablet is right for you, consider your needs and usage patterns. If you find yourself spending much of your computer time reading e-books, surfing the Web or watching videos, or if you want to show your baby photos in high-def and keep your kids entertained during long car trips, a tablet may be for you. The low-power processor in a tablet keeps battery life high: in tests, tablets offered between four and six hours of Web browsing and 10 to 12 hours of video playback. While top-of-the-line tablets with cellular connectivity approach the cost of a decent laptop, lower-end models start at under $200, as of November 2012. A tablet may also be a boon for a frequent flyer; unlike a laptop, a tablet can remain in your carry-on bag. On the other hand, a touch screen may not be the best interface for writing a novel or running a spreadsheet. Processor-intensive tasks such as high-resolution photo or video editing are still the realm of a computer with a faster processor and greater, expandable RAM. The capabilities of tablets are approaching that of "real" computers, and models such as the Surface Pro muddy the waters by using the full desktop Windows 8 operating system, but most tablets are designed to be used on the go, and without a keyboard and mouse many desktop apps may be difficult to use.
Photo Credits
photo_camera

Kevork Djansezian/Getty Images News/Getty Images