How to Do a Presentation on Skype
by Laurel Storm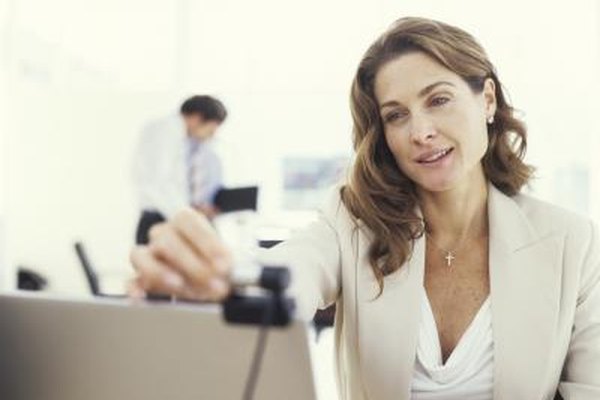 Skype calls make it possible to give presentations even when your intended audience is in another city, state or even country. Despite Skype's convenience and ease of use, however, there are several issues you need to consider when preparing to give a presentation. If you do not prepare properly, your presentation could end up looking unprofessional, causing embarrassment to both you and your audience.
Test Your Microphone and Speakers
The very last thing you want to have happen is to call the people to whom you'll be giving the presentation only to find out that you can't hear them or they can't hear you. It logically follows, then, that the very first thing you need to do is to test your microphone and speakers. To do this, launch Skype and find the "Skype Test Call" or "Echo / Sound Test Service" contact in your contact list. If neither name appears in your contacts, you may have deleted it -- in this case, run a Skype search for "echo123." Call this service and follow the instructions to test your microphone and speakers. If you can't hear anything, there is an issue with your speakers; if you hear the call but not your recorded message, there is an issue with your microphone. In either case, follow the troubleshooting steps suggested by Skype (link in Resources) to solve the issue.
Test Your Webcam
In Skype, click "Tools," select "Options" and click "Video Settings." If your webcam is configured correctly, you should see a live video feed of whatever it is pointed at -- ideally, it should be pointed at you. If the video works, click "Webcam Settings" to open your webcam's configuration, and, if necessary, adjust options such as brightness and contrast. If it doesn't, follow Skype's troubleshooting guide (link in Resources) to solve the issue. Once your webcam works and is configured how you want it, leave the Video Settings window open.
Prepare Your Environment
Look at the part of the room that is visible in the video and move anything that might be distracting or make you look unprofessional out of the frame. If you are sitting with your back to a window or lamp, consider moving your computer elsewhere or at the very least pulling the blinds when giving your presentation. If you are lit from behind, it will be quite difficult for the people to whom you are giving the presentation to see you properly. If at all possible, position your computer so you are sitting in front of a blank wall or place a temporary, neutrally-colored screen behind you.
Prepare Your Computer
If you intend to use Skype's screen-sharing feature to show your audience something during your presentation, ensure you have all necessary programs and files open before the presentation -- and shut down everything else. In particular, exit your email program and any social media tools and close all browser tabs except for necessary ones. You should also set your status on Skype to the "Do Not Disturb" mode to suppress notifications. To give your presentation to a group rather than just to one person, you will need a Skype Premium account, which supports video calls and screen sharing for groups of up to 10 people. As of August 2013, Skype Premium costs $10 for a monthly subscription, with discounts if you choose a quarterly or yearly subscription; a day pass is also available for $6. If you are using Windows 8, you will need to download and install the desktop version of Skype (see Resources) to be able to share your screen and place group video calls -- the version you can get from the Windows Store lacks these features.
Practice Your Presentation
Ask a coworker, friend or family member whose opinion you trust to watch you give the presentation. For this to work, the person helping you needs to have a Skype account and be in a separate room. Call your helper on Skype and give the presentation without stopping, doing a dry run just as you plan it to give it to your intended audience. Once finished, ask your helper for his opinion and consider any issues he identifies. Keep practicing until everything runs smoothly.
Photo Credits
photo_camera

George Doyle/Stockbyte/Getty Images