Why Are Some People's Text Bubbles Blue & Some Green on My iPhone?
by Carol Finch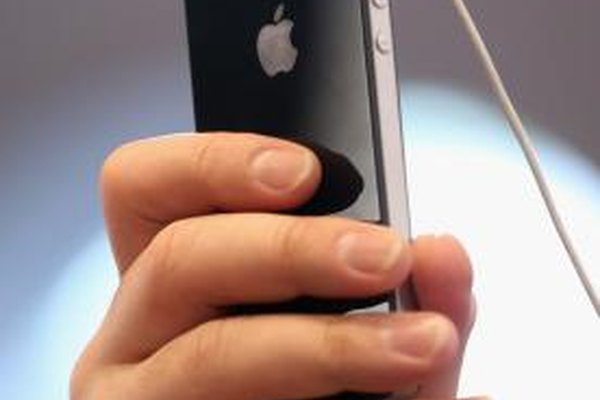 In early versions of the iPhone's operating system, text bubbles from incoming messages on your iPhone all used to be green, but you may have noticed blue bubbles and a blue send button appearing in some conversations. If you enable iMessage (available in iOS 5 and up), you can also use the Messages app to chat with other Apple users over Wi-Fi for free. The text bubble color you see on your screen tells you whether you're communicating by traditional SMS or iMessage.
Green and Blue Bubbles
If someone sends you a regular SMS message and he isn't using an iPhone, then its text bubble will be green. If you reply, the "Send" button is also green. If you have enabled iMessage and are texting another Apple device user, then incoming messages are in a blue text bubble and the screen has a blue "Send" button. Although iMessage sends and receives messages that look like regular texts, it is actually an instant messaging system that only works on Apple devices.
Features
With iMessage you can send free messages, photos, videos, contacts and locations over Wi-Fi to anyone you know who is using an enabled iPhone, iPad, iPod Touch or a Mac that runs Mountain Lion. You can also set it up to receive messages across other Apple devices as well as your phone. If your phone detects that you are messaging someone with a compatible device, then your message should turn blue automatically. You also get some useful features. You can see when someone has read a message and an icon pops up when he is replying. If you are texting someone who is using a different kind of phone, you can simply send a regular message.
Considerations
For iMessage to work, you and the person or people you're chatting with need to be connected to a Wi-Fi network and using iMessage-enabled Apple devices running iOS 5+ (or Mountain Lion on a Mac). You can't use the system with other cellphones. Although iMessage is technically free, it may default to sending messages as SMS texts if there is a connection problem, so there may be times when you pay for the service unless you disable this feature. If it can't connect, or gets confused because you are trying to message a non-Apple user, the message can hang -- you need to double-tap or tap and hold to force the option of sending a text message manually.
Enabling and Disabling
To enable iMessage, go to your Settings screen and tap "Messages." In the iMessage screen, tap "Use your Apple ID for iMessage," enter your ID and password, and tap "Sign In." Select the phone number and/or email address that you want to use and tap "Next." Make sure that the iMessage slider is set to "On." If you want to disable it and go back to regular texting, switch the iMessage slider to "Off."
Photo Credits
photo_camera

Sean Gallup/Getty Images News/Getty Images