Norton AntiVirus Vs. McAfee
by Nick Flegg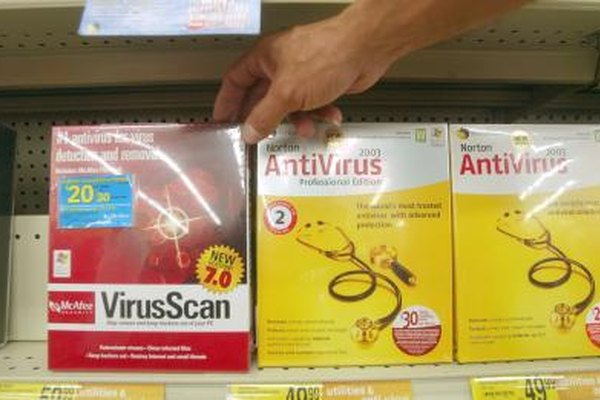 McAfee was founded in 1987, with their initial anti-virus applications publicly available as shareware, while Norton AntiVirus was first released in 1991 by developer Symantec. Offering software solutions for both casual computer users and large businesses, McAfee and Norton are two of the most well-known names when it comes to virus protection, and continue to fight for market supremacy decades later.
2013 Software Comparison
Both Norton and McAfee have a proven record when it comes to anti-virus software, with McAfee winning the ComputerShopper "Best Buy" award in 2009. However, the world of computer virus software is ever-changing, with new viruses being created on a regular basis. Norton AntiVirus and McAfee AntiVirus Plus 2013 are the current incarnations of each company's AV suite, and they both boast very similar features.
Price
Both Norton AntiVirus and its McAfee equivalent, McAfee AntiVirus Plus 2013, have a retail price of $50 as of April 2013. This price allows you to protect one PC for one year, although this can be increased upon purchase for extra cost. More robust anti-virus software is available for a bit more, with Norton 360 retailing at $90 and McAfee Total Access 2013 retailing at $100. Both Norton and McAfee offer regular deals on their anti-virus applications, which can be found on their respective websites.
Features
Norton AntiVirus offers five layers of protection, as well as an "insight" feature which scans unknown files, improving the performance of your PC. Norton AntiVirus can also prevent viruses from entering your system by scanning applications before you install them. McAfee AntiVirus Plus 2013 is lighter on features, but still offers tools such as an adaptive two-way firewall, which prevents software from stealing your information, as well as the ability to erase sensitive information, cookies and your browser history.
Protection
According to tests run by tech site PCMag.com, Norton AntiVirus is especially strong when it comes to malware removal, although it returns only average scores when tested for malware blocking. When placed under similar scrutiny, McAfee AntiVirus Plus 2013 has less impressive results, both in malware blocking and malware removal. PCMag.com goes on to suggest that while McAfee AntiVirus Plus 2013 excels in phishing protection, Norton AntiVirus provides a stronger overall package against a wide range of threats.
Interface
Both Norton AntiVirus and McAfee AntiVirus Plus 2013 are designed to work with Windows 8 and are built with touch-friendly buttons that make navigation simple. Installation on the McAfee variant can be tricky, however, especially on computers that already have malware embedded into the system. Norton AntiVirus avoids these problems by utilizing built-in AutoFix tools, along with Norton Power Eraser and the Norton Bootable Recovery Tool.
Other Options
Both Norton and McAfee offer a variety of anti-virus solutions, including Norton 360 Multi-Device and McAfee All Access 2013. Mac and Linux-specific versions are also available. Norton AntiVirus and McAfee AntiVirus Plus 2013 are the companies' respective entry-level programs when it comes to anti-virus software and offer a basic level of protection against threats to your machine.
Photo Credits
photo_camera

Joe Raedle/Getty Images News/Getty Images