Which Net Browser Does the iMac Use?
by Julius Vandersteen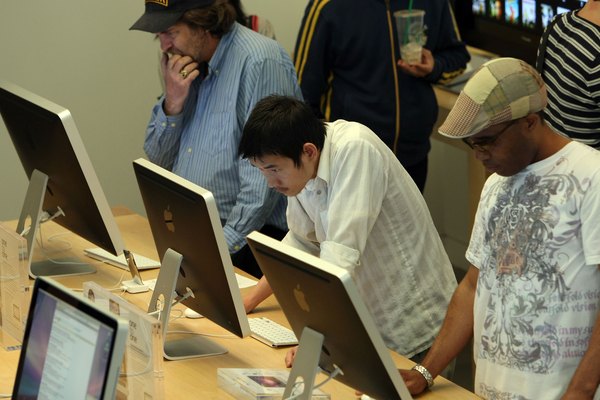 Apple installs the free Safari Web browser on every recently made iMac, as of 2011. Safari features tabbed browsing and a Private Browsing mode that enables you to access websites without recording details of your searches and data that you type into forms. You can use gestures with a trackpad or touch-sensitive mouse to zoom in on pages or swipe from one page to the next in Safari. If you don't want to use the native Safari browser, you can download a third-party browser.
Apple's iMac
The iMac is a desktop computer made by Apple. It has a hard drive, central processor, optical drive, speakers, microphone, camera and backlit LED display integrated into a single device, along with a wireless mouse and keyboard. You can connect to the Internet via an Ethernet cable or over Wi-Fi using Apple's Safari Web browser.
Safari
Every iMac includes a copy of the Safari Web browser as part of it's operating system, Mac OS X. When you want to surf the Web, click "Safari" on the dock of the iMac to launch the browser. You can also click the icon of the blue face on the dock to switch to the Finder, and then click "Go" from the Finder menu and click "Applications." Double-click the Safari browser icon in the Applications folder to launch it. With Safari, you can download a third-party Web browser to your iMac's Downloads folder.
Alternative Browsers
You don't have to rely on Safari for surfing the Net. If you want to use a different Web browser, you can download a free third-party graphical browser such as Mozilla's Firefox, Opera or Google's Chrome. If you prefer to access the Internet with a text browser, you could use Lynx, which will enable you to avoid images, videos, Flash and other advertisements and JavaScript.
Considerations
If you have difficulty seeing and want to use Apple's native text-to-speech feature while surfing the Net, be aware that it's integrated only with Apple's native Safari browser. If Safari has a problem loading a particular website, use a different browser, such as Chrome, Firefox or Opera. If a website developer didn't test her site with Safari in mind, you might still be able to open it with one of the other browsers.
References
Photo Credits
photo_camera

Justin Sullivan/Getty Images News/Getty Images