How to Move a Photo From a Mac to an iPhone
by Avery Martin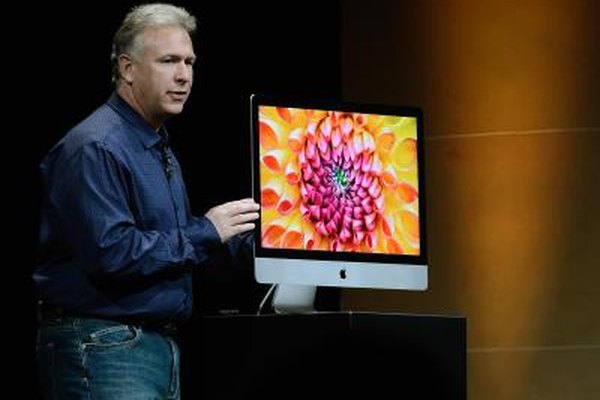 A few options exist to get your photos on your Mac to your iPhone. One method involves setting up Photo Stream to automatically sync photos from the last 30 days to your iPhone. You can also sync photos directly from your iPhoto library by setting up photo syncing in iTunes. Use iTunes if you need to sync an entire iPhoto library since Photo Stream uses your Wi-Fi connection and can take some time to sync a large number of photos. You can also send photos to your iPhone using your Mail client.
Sync Using iTunes
1
Launch iPhoto and make sure the photos you want to send to your iPhone exist in your iPhoto library. Drag any photos not in your iPhoto library to the Photos tab in the sidebar.
2
Connect your iPhone to your computer and Launch iTunes, if necessary.
3
Select the "Photos" tab.
4
Select the "Sync Photos From" check box and choose an option to sync all your photos or only selected photos. If you select the option to sync only selected photos, check the boxes in the Albums, Events and Faces section to indicate the photos you want to sync.
5
Click "Apply" to send your photos to your iPhone.
Sync Using Photo Stream
1
Launch iPhoto on your computer, select "iPhoto" and choose "Preferences" from the drop-down menu.
2
Click the "Photo Stream" tab.
3
Check the "My Photo Stream" box and select the "Automatic Upload" option.
4
Tap the "Settings" app on your iPhone.
5
Tap "Photos & Camera" and set the "My Photo Stream" toggle switch to the "On" position.
Send Via Email
1
Launch your Mail client and click the Compose icon. Add an email address accessible on your iPhone to the "To" field.
2
Drag the images you want to attach to the email to your message.
3
Click the "Send" button to send the images to your iPhone.
4
Tap the "Mail" app on your iPhone and select the message with the attached images.
5
Tap the icon for the picture to download the image, if necessary.
6
Tap the image again and select the Action arrow to send the photo to Photos or another available application.
Tip
Make sure you set up iCloud to use the same email address for Photo Stream on both your Mac and your iPhone.
Warning
Information in this article applies to iOS 6 and Mac OS X Mountain Lion. It may vary slightly or significantly with other versions or products."
More Articles