How to Move Computer eBooks to a Kindle
by Chris Hoffman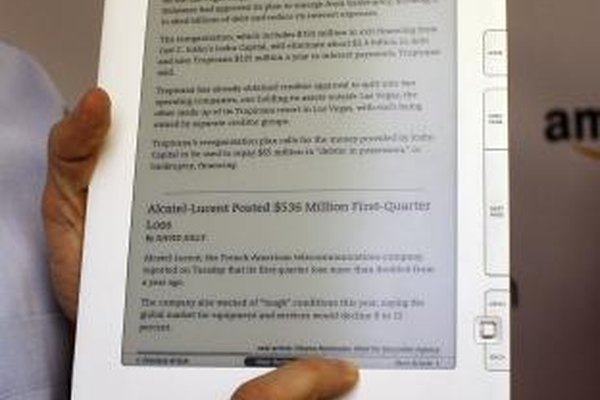 Amazon Kindle e-book readers normally download e-books wirelessly from the Kindle store using a Wi-Fi connection or the 3G Whispernet connection, available on some models. You can also directly connect your Kindle to a computer and move e-books onto it. You can use this method to add e-books downloaded from the Kindle store if you don't have wireless access or download e-books from other locations onto your Kindle. The Kindle supports Kindle-format e-books in AZW and AZW1 format, text files in TXT format, unprotected mobipocket e-books in MOBI and PRC formats and PDF files.
1
Connect the Kindle to the computer using the included USB cable. Plug the small end of the USB cable into the USB port on the bottom of the Kindle and the large end into one of the USB ports on the back, side or front of the computer.
2
Click "Start" and select "Computer."
3
Double-click the "Kindle" device icon in the Computer window.
4
Double-click the "Documents" folder on the Kindle.
5
Drag and drop e-book files from the computer into the Documents folder on the Kindle.
6
Right-click the Kindle device icon in the Computer window and select "Eject" when you're finished, then disconnect the Kindle from the computer.
Tip
check

Move Audible audio books to your Kindle by placing them in the "Audible" folder on your Kindle or move MP3 music files to it by placing them in the "Music" folder.
Photo Credits
photo_camera

Spencer Platt/Getty Images News/Getty Images