How to Mount a Projector Screen to a Wall
by Michael Faye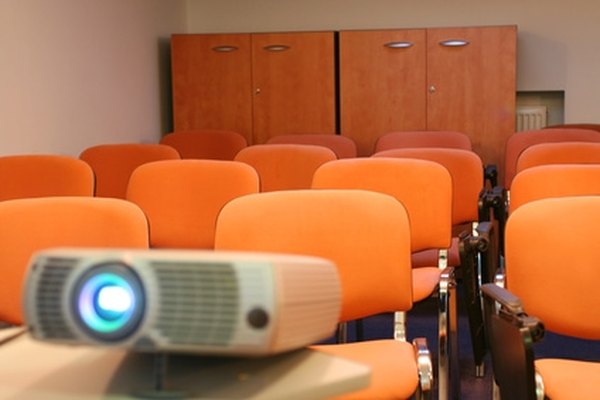 The latest models of projectors offer high-definition picture quality that rivals leading flat screen televisions and easily dwarfs their picture size, commonly projecting screen sizes that measure more than 110 inches diagonally. White or slightly gray walls will reproduce the image nicely, but to really take advantage of a high-definition projector's image quality, a front-projection screen mounted to a wall is essential.
1
Consult the projector's manual to determine how far from the screen your projector should sit.
2
Use a tape measure to determine the appropriate height for the wall mounts. They should sit quite close to the ceiling to take advantage of the projector screen's large size.
3
Drag the stud sensor over the wall upon which you will mount the projector screen. When it beeps, it has found part of the stud wall. Make a small mark on this area with a pencil.
4
Measure the width of the screen with the tape measure and locate approximately where the second mounting bracket should sit.
5
Drag the stud sensor across the wall in this area, and again mark the wall with your pencil where the stud sensor beeps.
6
Use a laser level to ensure both pencil marks are directly across from each other, as well as parallel to the ceiling. This will prevent the screen from hanging crookedly.
7
Use a screwdriver or screw gun to fasten the mounting brackets into the stud wall, using your pencil marks as guides.
8
Lift the projector screen onto the wall mounts and lower it until it clicks into place.
More Articles