About Microsoft Access
by Amanda Kondolojy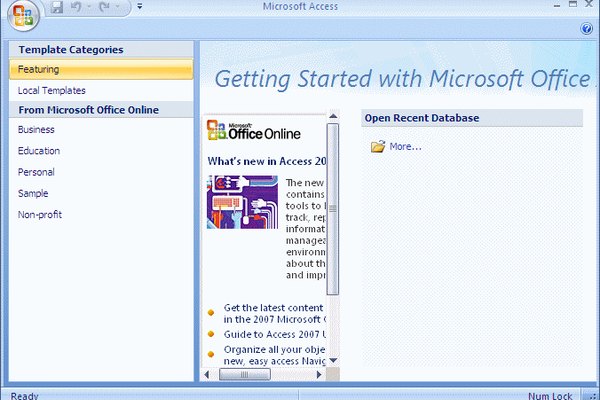 Microsoft Access is a database management program that is generally bundled with the Microsoft Office package. Although it is among the least used of the software bundle, Access provides very intuitive solutions for small business and corporate users who need a simple data management tool with deep compatibility and professional options.
History
The first version of Microsoft Access was released for the Windows 3.1 platform, and was very small. It worked with very small database packets, and did not support complex computer networks. Early testing also showed that the first Access could not handle large data files and often left them corrupted. Access 2.0 soon followed, and while it could handle a slightly larger data load, it did not make too many improvements. Access 97 marked a turning point for the program as it was the first to include advance developer's options. Successive versions improved the core Access visuals, and made the interface easier to access. The most recent version, Access 2007, features a very user-friendly graphical interface with several deep advanced options for pro users.
Significance
Microsoft Access is very significant as it is one of the most widely available database managers, and most compatible. Though development tools like MySQL and SQLite remain among the most popular, Access is compatible with all of these popular programs, and is has a great set of starter tools for users who are still easing into database management and development.
Features
Microsoft Access' most touted feature is it's user-friendly graphic interface. While other programs assume a certain familiarity with the technical aspects of database management, Access is unique as it eases new users into the program, and has many helpful guides to help those who are confused. Access' other main feature is it's compatibility with other programs, which is unrivaled. Files Access can read include those produced by MySQL, Oracle, Sun StarBase and SyBase PowerBuilder.
Benefits
There are several benefits to using Microsoft Access as a database manager. First of all, Access files are easily convertible and readable by other programs, which means that if you need to undergo system maintenance with a different program, there will be little to no corruption. Access' compatibility is also very useful if you need to take your files on the go, as they can adapt to different program systems.
Potential
Although Access is not the most popular in the Microsoft Office suite, it shows no sign of slowing down. A new Access is being planned for the release of Windows 7, with new features and options. Many speculate that Access will soon branch out and create a special developer's edition with advanced tools especially for database professionals.
More Articles