Make Your Own Animated GIF
By Dave Johnson
Updated October 17, 2017
Animated GIFs are crazy popular right now – you can't spend more than a few minutes online without running into one of those short, retro animations. But search the web for how to make one yourself, and you're likely to get instructions for how to combine a slew of images in Photoshop or some other elaborate photo editing program. Good news: You can do it a lot more simply than that, and I'll tell you how.
Before we get to that, though, I have to admit that I feel adrift in time. After all, I remember writing an article about this very subject in PC World back in 1998. The last dozen years or so have not been kind to the antiquated, low-fidelity format that no one can agree on how to pronounce ("gif" or "jif"?), but its fortunes have unexpectedly rebounded recently thanks to sites like Tumblr, Buzzfeed, and Facebook. These days, you can't swing a day-old meme without hitting an Animated GIF or two.
Case in point — Here are a few notable Animated GIFs you might have seen around town:

Courtesy imgur.com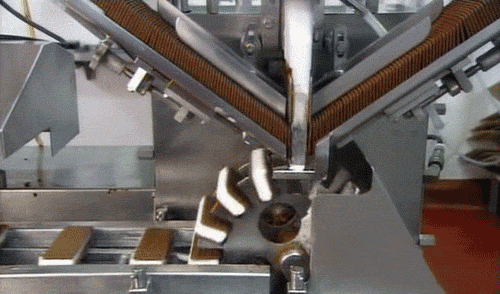 Courtesy tumblr.com

Courtesy imgur.com
So how can you get in on the fun?
First of all, if you have a short video that you want to save as an Animated GIF, you need to load the video into a video editing program and convert it from its current file format to Animated GIF. I recommend VirtualDub or QGifer — both are free and very easy to use. Just remember that the magic of Animated GIFs is that they are short and sweet, not unlike a Vine video, so limit the clip to just a few seconds.
A lot of great Animated GIFs are actually made from a sequence of still photos, though. For this variety, don't mess with Photoshop (if you even own it) or some other graphics program. That's overkill. All you really need to do is to combine the sequence of images and specify a delay between each one, so they play back as an animation (like flipping through one of those old sets of playing cards with a different picture on each one).
My recommendation: UnFREEz. To download and install this simple and completely free little utility, click the Download UnFREEz link at the bottom of the product page – not the big download button at the top of the page, which is misleading because it's for an unrelated program called Zip Opener. The good news is that UnFREEz requires no installation; you can just double-click the icon after it's saved to your computer.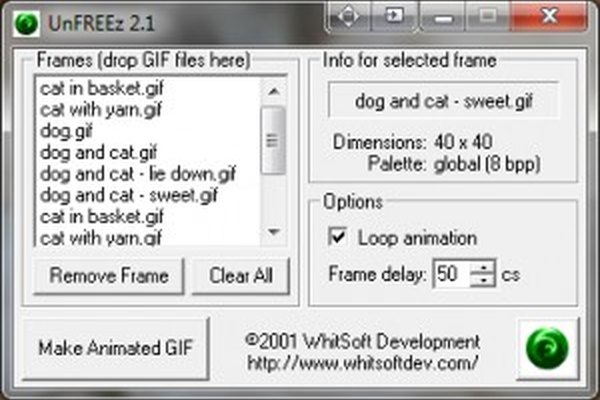 To use the program, start by collecting the images you want to turn into an animation. They should all be in GIF format (if necessary, you can resave photos in GIF format using Microsoft Paint, which is included with Windows). The filenames aren't important – they don't need to be numbered, for example – but you do need to arrange them in the correct order and drag them into the program window. You can't rearrange them once they're in UnFREEz.
Set the delay between each image. UnFREEz uses cetiseconds (cs), so 50 is a half-second pause between each frame.
Then just click Make Animated GIF and save the finished product. That's all there is to it – from there, you can post your creation online and join the modern 21st Century, which is currently obsessed with an artifact from the 20th.
Have you made your own Animated GIF? Tweet me about it or send me an email at tech@ehow.com.
Hey, have a question about this or any other tech subject? You can talk directly to one of our nerds and get an answer right away.
Writer Bio
Dave Johnson is editor of eHow's Tech channel, and the author of about 3 dozen books, including the best-selling, "How to Do Everything with Your Digital Camera." He has appeared in dozens of magazines and websites, including PC World, Wired, and CBS MoneyWatch.