How to Make a Photo Slideshow
by llshzh

The Christmas is coming! What presents are you going to buy for your families or friends? How about making a photo slideshow and then burn it on a DVD disc. Imagine how delightful they will be when they see a story about them is shown on the TV! Now, let's begin to create this amazing gift at once.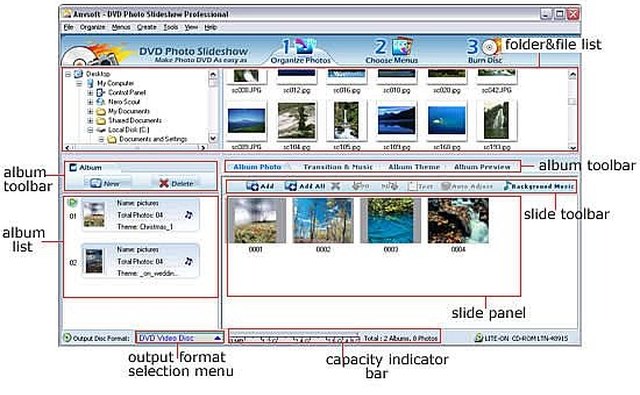 If you would like to finish this step quickly, please sort you pictures firstly. Please set up a folder for all the pictures you have and then sort them according to time or some other meaningful criteria. For example, if you would like to make s slideshow for your children. Please set up a folder named "Pictures" or any thing else, and then put all the photos of your children in this folder, now it is time to sort them. You may create some subfolders, such as "one-year old", "his/her primary school", and "His/her holidays" and so on. In a word, you can create an individual subfolder for each of his/her special days.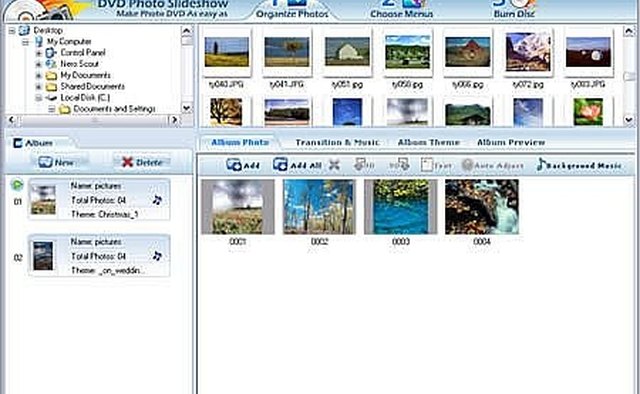 Now, let's run the slideshow software. It is supposed that you are using DVD Photo Slideshow. Actually, the operations are the similar in most of slideshow programs. Run the program, and then begin the first step: Organize your photos. Please right-click on the album panel and then choose "Batch Collect" in the pop-up menu, then please check the folder you created right now in the pop-up window. Click "OK" to create albums for each subfolder in this folder. The title of the album will be the same to the name of subfolders. Now you can click on the thumbnail of each album in the album list panel to view all photos in this album. You can also sort the picture within the album again. Right-click on the slide panel and then you can rearrange them. The easiest way is to drag and drop the photo to your desired position. Why I said so much about photo order? Because this order will be the order in which photos will be shown on TV.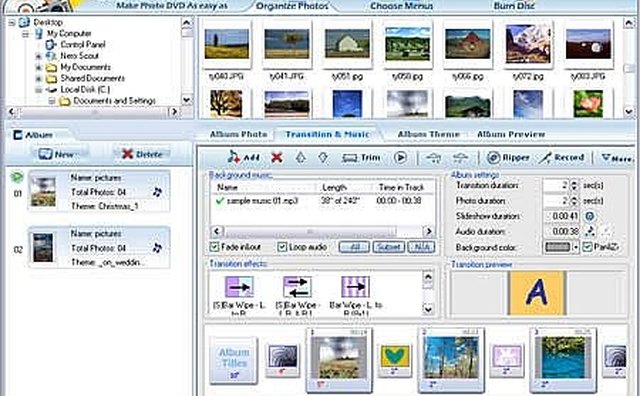 This step is the most important in making a slideshow. Now, we need to decorate the slide by adding text, art clips, background music as well as customizing transition effects and album theme. With DVD Photo Slideshow, you can finish most of decorations by double-clicking on the selected slide. This program also allows you to trim your added background music. While applying album, you just need to click "Album Theme" tab and then choose a theme from more than 70 provided templates.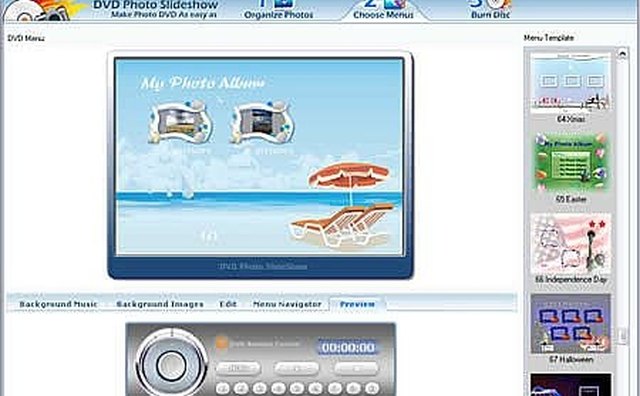 This is the step for choosing DVD menu which can make your created slideshow DVD look more professional. More than 80 menu templates are available in this program. You just need to click on the desired one and then all the layout and background of the selected template will be applied to your slideshow. However, you can still make any changes as you like.
This is the last step you need to do. After all these modifications, you can burn your creative work onto disc at once. First, you need to choose the output format in the program, DVD, SVCD or other formats? Then choose the recorder on your computer. Now click "Burn Now" to start encoding your project. It would better to preview your slideshow in previous step and make sure you are satisfied with. DVD-RW/+RW is recommended to use because it can be overwrite again and again.
After burning, you can enjoy the slideshsow on TV. Now, give this surprise to your families or friends.
Tips
check

The more photos and longer transition&photo; duration you have, the longer you need to burn the disc.

check

It would be better to choose some DVD/CD brands which are always compatible with the DVD/CD player you or your friends have.

check

You can not only add music but also some recorded audio to the slideshow by the program.

check

If you wanna better image quality, you can low the burning speed.
Warning
close

The program I recommend cannot run in Mac
More Articles