How to Make an Audio Graph
by James T Wood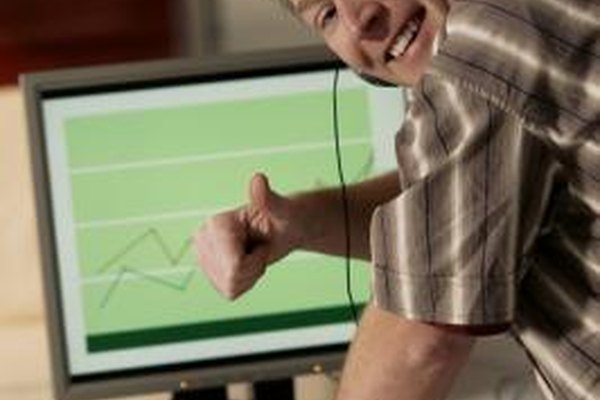 Audio signals provide a wealth of information to display visually on a graph. You can analyze the pitch of a sound over the course of time or graph the volume of the audio against its frequency. Typically a graph can only display two pieces of data, one along the X axis and one along the Y axis, but if you need to show more information, you can also graph audio with different colors to denote volume, and pitch over time. There are several audio programs that allow for graphing sound recordings.
1
Download and install the software that you want to use for your graph. Some options are Audacity, GoldWave and WavePad (links in Resources). All of them provide some audio graphing options along with audio recording and editing tools. Audacity is free, open-source software. Both GoldWave and WavePad are free to try for a short time. Audacity and WavePad have the most sophisticated options for producing audio graphs. GoldWave can produce the graphs, but only as a part of general audio visualization.
2
Open or record the audio you want to graph. Click on the "File" menu and select "Open." Browse to the location of the audio file and double-click it to open the file. Record audio by clicking the red, "Record" button on the toolbar. When you're done recording, press the square "Stop" button on the toolbar.
3
Click and drag on the audio representation on the screen to highlight the section that you want to graph. If you want to select it all, press "Ctrl+A."
4
Graph the audio in Audacity by clicking the "Analyze" menu and choosing "Plot Spectrum." Use the drop-down menus to select the Algorithm, Function, Size and Axis used in the graph.
5
Create an audio graph in WavePad by clicking the "File" tab and selecting either "FFT" or "TFFT." The FFT button creates an XY axis graph of the selection showing the frequency in Hertz on the X axis and the volume in Decibels on the Y axis. Using the TFFT shows the same data and adds time. The X axis shows time, the Y axis shows frequency and the color shows the volume, with the brighter colors indicating a louder volume.
6
See the audio graph in GoldWave by clicking "Options" and then "Control Properties." Click on the "Visual" tab and select the visuals from the drop-down menus. The "Spectogram" option shows the frequency on the Y axis, time on the X axis and the volume in color. The "Spectrum" graph shows the volume on the Y axis and the frequency on the X axis. You can choose four visuals to display with your audio in GoldWave.
References
Photo Credits
photo_camera

Comstock/Comstock/Getty Images