How to Load a Garmin Transflash Data Card
by Terry Parker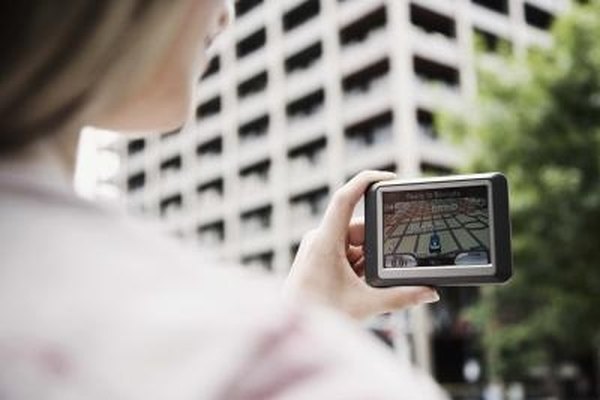 Many Garmin global positioning devices have an expansion card slot that enables the device to accommodate a microSD card. The term "TransFlash" is just another name for the microSD card. Most Garmin GPS units that support TransFlash cards have a card slot on the side of the device. The card slot is usually covered with a small rubber cover. However, on some Garmin units, such as the Oregon, the card slot is located under the batteries. Check the owners manual for more information about your unit's card slot. Garmin sells supplemental maps for GPS units on TransFlash cards. However, if the Garmin GPS unit supports a TransFlash card, you can also use the card to store your own map data and additional files.
Load a Garmin TransFlash Card With Garmin Map Pre-Installed
1
Locate the card slot on your Garmin device.
2
Remove the rubber slot cover if the slot is located on the side of the GPS. If the card slot is located under the batteries, remove the back cover of the GPS and then remove the batteries.
3
Slide the card into the card slot until you feel the card click into place. If the card slot is located under the batteries, place the gold contacts of the card facing downward and slide the card into the slot, under the small metal bar. Replace the battery and back cover.
4
Power on the Garmin GPS. The pre-installed maps are automatically installed to the device.
Load a Garmin TransFlash Card With Your Own Files
1
Insert the Garmin TransFlash Card into the card slot on the GPS.
2
Plug the Garmin GPS into a computer using the USB connector cable. The Garmin device registers within the operating system.
3
Power on the GPS device.
4
Click the Windows "Start" button and then click the "Computer" icon. Windows Explorer opens. The Garmin is listed as a removable drive.
5
Click on the "Garmin" device. The TransFlash card will display.
6
Click on the "TransFlash" card in Explorer. The folder for the card opens in Windows Explorer.
7
Drag files into the "TransFlash" folder and drop them into the drive. The files are copied onto the card.
Photo Credits
photo_camera

Jupiterimages/Creatas/Getty Images