Are Kindle & Sony Compatible?
by David Weedmark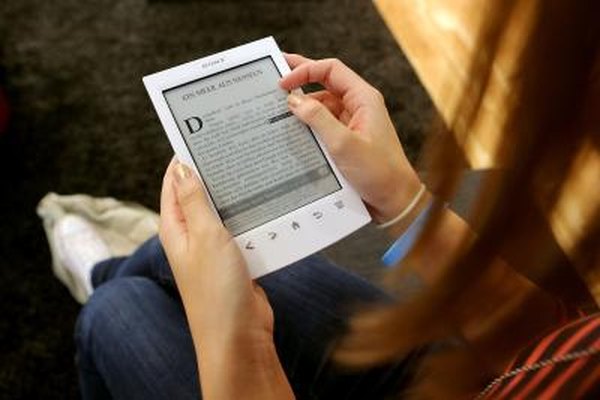 The Amazon Kindle and the Sony Reader are both popular e-readers that can store hundreds of e-books. With both devices, you can purchase e-books online or load them yourself. While there are some design differences between models, the primary issue between the two is that the e-books you buy with one are incompatible with the other. Kindles read MOBI files, usually found with Amazon's proprietary AZW file extension. The Sony Reader is designed for EPUB files.
E-Book Formats and Restrictions
The Amazon Kindle is the only e-reader that uses the MOBI format. All other e-readers, including the Sony Reader, Barnes & Noble Nook, use the EPUB format. If you purchase an e-book from Amazon, it can't be opened on any other e-reader. However, they can be opened on a Kindle app on most computers, tablets and smartphones and accessed from any Web browser while logged in to your Amazon account. E-books purchased from any bookstore can be transferred to a Sony Reader, Nook or any other e-book reader. Nearly all e-books purchased from online stores are digitally locked to prevent them from being copied or converted from one format to another.
Compatible Formats
E-readers are not limited simply to MOBI or EPUB files. Both the Amazon Kindle and Sony Nook and most other e-book readers can open other formats, including PDF, TXT and RTF documents. The Kindle can read Microsoft Word documents in DOC and DOCX format. The Sony Reader doesn't recognize Word documents, but can read them if you convert them to TXT or RTF format. Web pages and documents formatted in HTML are also compatible with both e-readers. Most image files like JPEG, GIF, PNG and BMP can be read on both devices. If your Kindle or Sony Reader plays video and audio, it accepts the same formats as well.
Unrestricted E-Books
While nearly all the e-books you might buy from an e-bookstore are digitally protected, those available from other sources may not be. For example, if an author distributes e-books on her own website, you may be able to convert those files from one format to another yourself. However, this is usually limited to self-published authors. Most major publishers protect the e-books they publish. Books with expired copyrights, like the immense collection found at Project Gutenberg, are unrestricted and can be copied and converted to other formats.
Converting E-Books
Provided an e-book is not digitally restricted, and the book's copyright owner allows you to copy and convert the work, you can convert e-books from MOBI to EPUB format and vice versa. There is a free open-source software program designed to do this, called Calibre. After you install the software on your computer, import an e-book into Calibre and then export it in any format you wish. You can also customize the file for your specific e-reader model.
References
Photo Credits
photo_camera

Hannelore Foerster/Getty Images News/Getty Images