What Does the Kindle Do?
by Matt Koble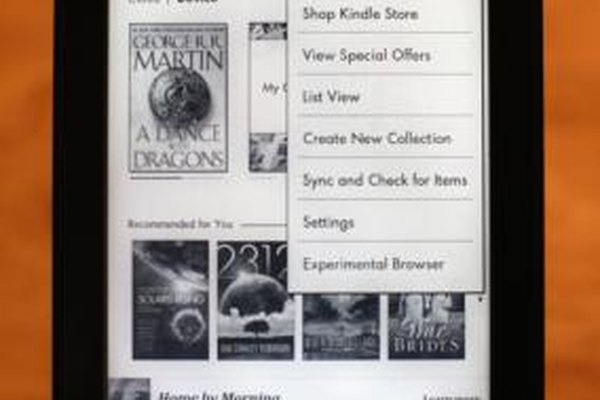 Online retailer Amazon manufactures the Kindle devices. The Kindle name, however, belongs to multiple models of the device. Kindles are e-readers, designed to digitally display books and other written content. Though they share the name, Kindle Fires are tablet computers, much more than e-readers. There are also Kindle applications for reading via your smartphone, tablet or computer.
Functions
The Kindle's main function is displaying e-books. Using a special screen technology called e-ink, the Kindle's screen is better suited for reading than bright computer, phone or tablet screens. Aside from e-books, you can also purchase and read newspapers, magazines and other periodical content through your Kindle. While reading, you can highlight text and add notes or share the excerpt on Facebook and Twitter. Other features include an experimental Web browser and built-in PDF reader. While there are various Kindle e-reader models that have slightly different features -- like the Paperwhite's lit screen -- they all perform the same basic functions.
Kindle Store
A feature of every Kindle, the Kindle Store is where you find content for your Kindle. Like a giant digital book store, the Kindle Store has millions of e-books to choose from, according to Amazon. Over 180,000 titles are Kindle-exclusives, meaning you won't find them anywhere else. Amazon also touts that the Kindle Store features millions of free books, including many public-domain classics. The Kindle Store also features sections for games and applications, though the selections here are much more abundant on the Kindle Fire tablet.
Kindle Fire
While the Kindle Fire shares part of its name with the e-readers, this device provides a different experience. The Kindle Fire is a tablet computer capable of watching video, listening to music, playing games and using applications. Using your Fire, you can also purchase over 120,000 movies or TV shows and over 20 million songs as of October 2012. Also available, Audible offers over 100,000 Kindle Fire-compatible audiobooks. While you can also access Kindle e-books, magazines and newspapers, the high-resolution color screen shows much more detail, with some Fire models displaying in high definition.
Kindle Apps
Amazon also freely distributes a number of Kindle reading applications for different platforms. There are Kindle apps for the Mac, iOS, PC, Blackberry, Windows Phone 7 and Android operating systems, so you can take your reading to your phone, computer or non-Fire tablet. The Kindle Cloud Reader lets you read your Kindle content from within your computer's Web browser. While you can access the Kindle store using the apps, they are only compatible with Kindle e-books; for videos, music, games or applications you'll need a Kindle or Kindle Fire.
References
Photo Credits
photo_camera

David McNew/Getty Images News/Getty Images