How to Get Your iTunes to Recognize a New Apple iPhone
by Laurel Storm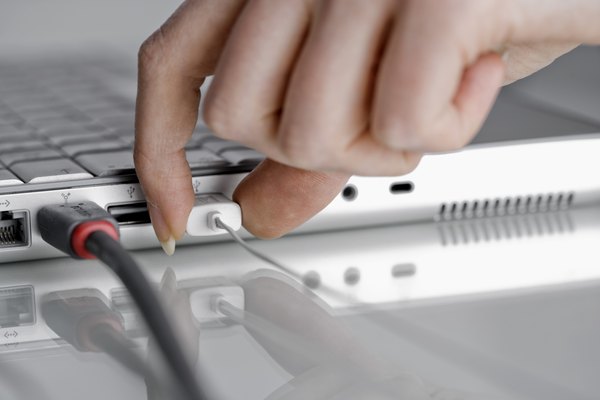 Syncing your new iPhone with your computer is not strictly necessary unless you want to copy media files to it that you haven't purchased from the iTunes store, but doing so does have its uses. Sometimes, however, your computer doesn't recognize the iPhone when you connect it, and it never appears in iTunes. The problem can have many causes, from a faulty USB cable to a complex software issue; when trying to fix it, test after every single possible solution to avoid wasting time.
Update iTunes
The first order of business when trying to get your new iPhone to appear in iTunes is to update the software -- even if you have older Apple devices that show up just fine. New versions of iOS, the iPhone's operating system, often require the most recent version of iTunes to sync. IOS 7, for example, requires iTunes 11.1 or newer. Open the "Help" menu in iTunes and click "Check for Updates;" if you're prompted to download and install a new version, do so. Once you've done that, test if the problem is solved.
Check the Cable and Port
The cable you're using to connect the iPhone to your computer may be faulty. This is rare, but not unheard of, even with brand new cables. The issue could also be caused by the specific USB port you're trying to use being broken. Try using a different port and cable. If iTunes recognizes your iPhone, disconnect it and try again with the old cable and the new port to determine which of the two was at fault.
Check for Apple Mobile Device Support
To be recognized in iTunes, iOS devices such as your iPhone require Apple Mobile Device Support to be installed. This is normally installed with iTunes, but an installation issue could've prevented this from happening or you might have accidentally uninstalled it. Switch to the Start screen, type "Control Panel" and then press "Enter" to open the Control Panel. Click "Uninstall a Program," wait for the list to load and check if Apple Mobile Device Support appears in the list. If it doesn't, uninstall iTunes, QuickTime, Apple Application Support and Apple Software Update (see Resources) and then reinstall iTunes from scratch.
Restart the Apple Mobile Device Service
For your iPhone to be recognized by iTunes, the Apple Mobile Device service needs to be running on your computer. Ensure iTunes is closed and your iPhone is disconnected from your computer. From the Start screen, run a search for "Services," click "Settings" and select "View Local Services." Select "Apple Mobile Device" from the list, click "Stop the Service," wait for the service to stop and then click "Start the Service."
Check the Driver
The USB driver for your iPhone may be disabled, corrupted or just plain missing. To check if this is the cause of the issue, run a search for "devmgmt.msc" from the Start screen and then press "Enter" to open the Device Manager window. Open the "Universal Serial Bus Controllers" list and then check if "Apple Mobile Device USB Driver" appears in it. If the entry is there and its icon has no warning symbols over it, proceed to the next section. If the icon has a downward arrow over it, the driver is disabled -- right-click it and select "Enable" to reactivate it. If the icon has a question mark or an exclamation mark over it, or the entry isn't there at all, the driver needs to be reinstalled (see Resources).
Check for Conflicts
According to Apple, some connectivity software for phones from various brands, including Sony, LG, Android, Motorola, Novatel, Sierra, Bora, Huawei, Nokia, Pantech or Samsung could be conflicting with iTunes and preventing your iPhone from being recognized by it. If you have such software installed, uninstalling it may solve the problem. For information on how to do this, you'll need to check the user manual for the software or get in touch with that company's customer service.
More Articles
Photo Credits
photo_camera

Jupiterimages/Polka Dot/Getty Images