My iPod Touch Is Stuck on the Connect to iTunes Screen in Pass Code Mode
by Lara Webster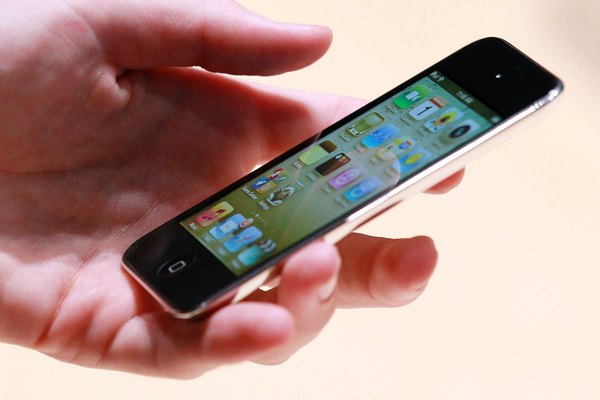 When your iPod Touch displays a message telling you to connect it to iTunes, it may be in recovery mode, or have been disconnected in the middle of an update. To get rid of the screen, you must reset your device. If in passcode mode, an iPod Touch must be manually unlocked or fully restored to get back to the home screen.
Forcing a Reboot
When your iPod Touch is stuck on a screen that is instructing you to connect with iTunes, a normal restart will probably not work, as the hard drive has become frozen. You can still, however force the iPod to reboot using a process called resetting. To reset an iPod Touch, hold down the "Sleep/Wake" and "Home" buttons at the same time until an Apple logo appears, indicating that the device is rebooting. When an iPod Touch reboots, it always goes back to the lock screen. Passcode mode will still be enabled.
Unlocking With the Passcode
If you know the passcode for your iPod Touch, slide the "Slide to Unlock" arrow and then enter your code on the next screen. Upon entering your password, you will be directed to the device's home screen. If you enter the wrong password too many times, it will become disabled temporarily. The iPod Touch can also be set to erase all content after 10 incorrect passcode attempts -- if you previously enabled this feature, don't attempt more than 9 entries.
Unlocking Without Passcode
If you have forgotten the passcode to your iPod Touch, the only way to unlock the device is by restoring it. Restoring an iPod Touch returns it to the factory settings, meaning that any settings, applications or music you added to the iPod are removed. Once the device is restored, you can re-add your downloads and other information using the backup copies in your computer iTunes program. The passcode setting will be disabled unless you manually enable it again.
Consideration
If you don't have a backup of your music and applications in iTunes on your computer, you can also download another copy from the iTunes Store or App Store on your device after a restore. Any photos that are deleted during restore, however, will be lost forever if a backup does not exist. Always back up your information via sync on a regular basis to avoid this problem.
References
Photo Credits
photo_camera

Justin Sullivan/Getty Images News/Getty Images