iPod Reset Utility for Windows
by Dustin Thornton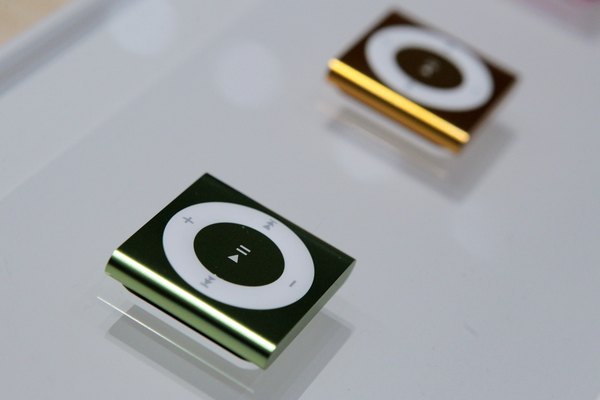 Unlike with other iPod models, you cannot manually reset the iPod shuffle without the use of software, if the unit malfunctions. To address this deficiency, Apple released the iPod Reset Utility, which lets you reset your iPod shuffle to factory settings. Although this wipes any saved music from the device, you can reload the music using iTunes after the reset. This software is available for download from the Apple website for both Mac and Windows operating systems.
Issues the iPod Reset Utility Resolves
The iPod Reset Utility resets the iPod shuffle's firmware and installs the newest software released for your iPod version. This resolves conflicts ranging from the system simply not playing music to units stuck in "Recovery Mode" or "USB DFU device" mode when you connect them to iTunes. The iPod Reset Utility also fixes an issue that causes the computer to recognize the iPod as a flash drive instead of a music player.
System Requirements
Unfortunately Apple does not support Windows Vista and Windows 7 for use with the iPod Reset Utility. To install and run the utility, Apple recommends that you run Windows 2000 (Service Pack 4) or Windows XP (Service Pack 2). Consider using an old computer with a compatible operating system to perform the iPod reset if the computer containing iTunes uses an incompatible operating system. The computer used to reset the iPod must have an active Internet connection. The iPod Reset Utility only works with the first and second generation iPod shuffle.
Installing the iPod Reset Utility
Download the Windows iPod Reset Utility from the Apple website and save the file to your desktop. Right-click the file and select "Run as Administrator;" enter a password if necessary. An installation wizard will appear. Accept the license agreement and install the iPod Reset Utility in the default location. After installation, double-click the icon on your desktop or select the program from the "Start" menu to open the program window.
Performing iPod Reset
Connect the iPod to your computer using the USB connection cable and click "Reset" on the menu of the iPod Reset Utility window. Allow the program to reformat the device and install the necessary software updates. Do not unplug the system or shut down the computer while the update is in progress or you could permanently damage the device.
Reloading Music
Connect the iPod to the computer containing iTunes and your music. Open iTunes and click the "Devices" menu. Highlight "iPod shuffle" then click the "Music" tab at the top of the program. Select either "Entire music library" or "Selected playlists, artists, albums, and games" in the "Sync Music" section. Click "Apply" to reload music on your iPod shuffle. Note that you must manually select which items to add to your iPod if you chose to select items manually.
More Articles
Photo Credits
photo_camera

Justin Sullivan/Getty Images News/Getty Images