What Does the iPad Have for Word Processing?
by Andrew Mikael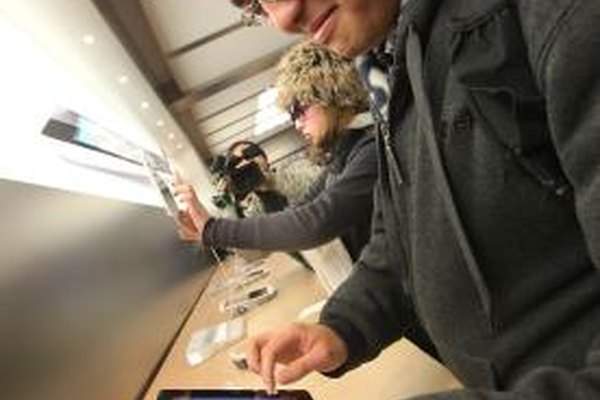 Apple's iPad tablet device primarily uses a touchscreen interface to surf the web and navigate applications. While this makes some games and programs simple and intuitive, the lack of a traditional keyboard and mouse makes some other tasks more complex. Word processing, a staple feature of most computer systems, makes some concessions to work with the iPad's minimalist design. Though initially ill-equipped, some additional accessories and applications allow iPad word processing to be a more productive process.
Software Keyboard
The built-in software keyboard presents the primary obstacle to efficient word processing on the iPad. This feature displays a touch-sensitive keyboard that fills the bottom half of the screen, filling a space approximately the size of a standard netbook keyboard in landscape mode and allowing for two-handed typing. The lack of tactile feedback often makes accurate and fast typing more difficult than on a standard keyboard, though practice may increase the keyboard's ease of use. I n addition, the keyboard lacks a number pad and some other keys found on most physical devices that may make word processing easier.
New Hardware
The iPad's Bluetooth connectivity helps ease the difficulty of the onscreen keyboard. Apple keyboards and most third-party Bluetooth input devices work with the iPad without additional setup. This allows users to connect a new keyboard for use with many different applications, and gives the option of many different layouts and options for ease of word processing. Some devices such as the TrendyDigital iPad Case and the ClamCase include screen stands with keyboard peripherals for laptop-style use.
Built in Software
The only program with word processing features included with new iPads is Apple's Notes application. This program offers basic full-screen text editing with limited formatting options, with additional features such as email transfers and address recognition. While useful for purely textual storage, users looking for a more fully featured word processor will need a separate application from the App Store.
Downloadable Applications
Apple's App Store gives the iPad access to many more word processing programs that greatly expand the systems text creation options. Apple's official iWork Pages word processor has an iPad version available for purchase, and other software such as QuickOffice and Office2 HD offer word processing featuers along with Microsoft Office compatibility. The free Google Docs word processor requires no download, and works from within the iPad's Safari web browser.
References
Photo Credits
photo_camera

Mario Tama/Getty Images News/Getty Images