iPad vs. MacBook Pro 13
by Anne Hirsh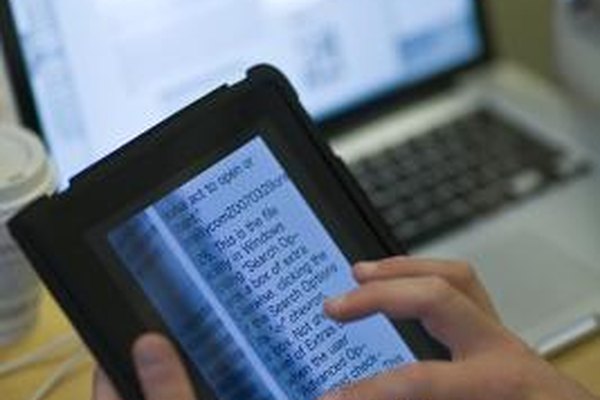 The iPad is a mobile device, while the MacBook Pro is a fully functional laptop computer. This means each device is designed for different functions and runs on a different operating system. The Mac OS X operating system on the MacBook Pro works with traditional software, while the iOS operating system on the iPad runs apps as software. Apps have limited features compared to most traditional software packages, but they cost less, load faster and can serve many users' needs as well as their full software counterparts.
Ports and Accessories
The iPad has two ports and a limited number of accessories you can connect to it. The mobility of the iPad is based on its self-contained nature, so it has a headphone jack and a docking port that lets you connect its sync cable, charger and special adapters to share video with another screen or load photos from your camera. The MacBook Pro 13-inch model has two USB ports plus Ethernet, FireWire, an SDXC card reader and a charger connection port in addition to a CD/DVD drive. You can connect any peripherals compatible with these ports and the Mac OS X operating system version you're running, including printers, external drives and USB mice.
Connectivity
The iPad and MacBook Pro 13 both have internal wireless networking hardware, so you can connect to Wi-Fi signals without any additional hardware or software. The iPad also offers 3G wireless Internet connectivity on certain models. Only "Wi-Fi + 3G" models have this option, which lets you connect to either AT&T; or Verizon cellular networks, depending on the model you purchase. MacBooks allow wired Ethernet connections as well. Both the MacBook and iPad also have Bluetooth connectivity for certain peripheral devices, such as external keyboards or headphones. The iPad software does not support any mouse device, including Bluetooth mouse connections.
Physical Differences
The iPad weighs approximately 1.34 pounds and has a diagonal display size of 9.7 inches. The MacBook Pro 13 has a 13-inch diagonal display and weighs 4.5 pounds. The MacBook can hold up to 500GB of memory, while the largest iPad storage capacity is 64GB. The MacBook protects its own screen when the lid is closed, while the iPad requires a separate case or cover to protect the surface.
Comparison
If you need a self-contained mobile device that can handle documents, photos, presentations spreadsheets and other common files, as well as playing music and movies, the iPad is a compact and portable solution. The MacBook is a better choice if you must run specific full-featured software programs, such as Adobe Creative Suite, advanced features in Microsoft Office or any program that requires Adobe Flash, although you can work with many Creative Suite and Office files on the iPad. As of the date of publication, the iPad also requires a computer for setup, backup and syncing files. With the Fall 2011 release of iOS 5, the iPad is designed to be functional as a stand-alone device.
References
Photo Credits
photo_camera

Tom Pennington/Getty Images News/Getty Images