iPad Capabilities & Limitations
by David Nield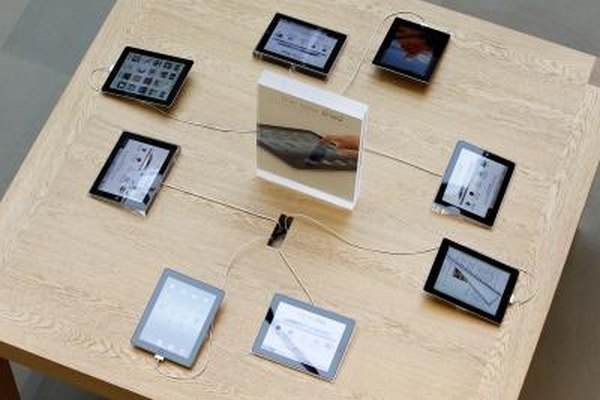 Since the first generation model was launched in 2010, the iPad has proved a huge success for Apple, with more than 120 million units sold by the start of 2013. The iPad manages to pack in plenty of power and functionality into a small, light form factor, but despite the device's many qualities it does have some limitations when compared to traditional desktops and laptops. For example, unlike Microsoft's Surface Pro, which can run all Windows 8 apps, iPad can't run Mac desktop apps.
Built-in Capabilities
The iPad comes with Apple's iOS software already installed, and the bundled apps give some idea of the device's capabilities. Apps are available for emailing, browsing the Web, playing music, watching video content, listening to podcasts, reading e-books, managing contacts and calendars, and making audio and video calls over the Web. Smaller apps enable you to keep notes, set reminders and alarms, check the weather and monitor stock prices. The iPad also comes with built-in cameras front and back for taking images and recording video, and includes a digital compass.
Third-Party Apps
Third-party apps can be added to an iPad from the many hundreds of thousands available on Apple's App Store. These apps cover a huge range of functions and purposes, including document editing and creation, photo and video editing, games, social media, music making, education and learning, communications, Web and file browsing, content streaming and much more. Some apps are sold for a fee but many are available free of charge. These third-party apps extend the iPad's capabilities to cover almost every aspect of modern-day computing. Some well-known desktop tools such as Microsoft Office are available in limited form on the iPad for Office 365 subscribers via Office 365 for Mobile.
Hardware and Software Limitations
Apple's latest iPad as of September 2013 is powered by a dual-core A6X CPU with quad-core graphics and 1GB of RAM. While this is plenty of power for running one foreground app and several background apps on a lightweight tablet, iPads are not capable of the kind of high-end processing operations or multitasking that desktop and laptop computers -- or even Microsoft's Surface Pro tablets -- are; the most demanding games and fully fledged video editors, for example, cannot run on an iPad. Further, iOS software does not allow full access to the device's file system and may encounter problems with file formats such as videos or Office documents not specifically supported by Apple. You may also encounter problems with complex or interactive websites when viewing them through a mobile browser on your iPad.
Form Factor Limitations
The touchscreen input method used by the iPad and the iPad mini means these devices aren't particularly suitable for long periods of typing, although you can buy a Bluetooth keyboard as an accessory if you wish to mitigate this downside. Detailed and precise work that requires a mouse and keyboard, such as photo editing or coding and programming, is also less easy to do using the iPad's form factor. While the iPad's screen packs in plenty of pixels -- 2048-by-1536) -- the 9.7" screen isn't ideal for showing off presentations, movies and other types of content to more than one or two people. Unlike Microsoft's Surface Pro, it doesn't have rich ink-recognition technology, either, including only the support for a capacitive stylus.
More Articles
Photo Credits
photo_camera

Matthew Lloyd/Getty Images News/Getty Images