Instructions for Nortel T7208 Telephone
by Dan Howard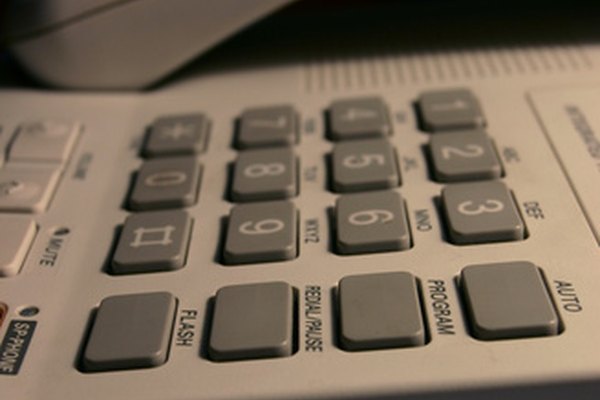 The Nortel T7208 is a corded telephone that is designed for business settings that require use of multiple telephone lines. The T7208 supports making and receiving calls using either a handset or a headset. It can store up to eight commonly dialed phone numbers and is equipped with four ringtones to choose from. The phone also has standard telephone options such as mute, hold and volume control.
Download an electronic copy of the Nortel T7208 user manual (see Resources). The manual contains information regarding using the telephone and the location of buttons on the telephone.
Slide the phone stand off the bottom of the T7208 telephone. Plug a telephone cord into the jack at the base of your T7208 telephone. Plug the other end of the cord into a wall jack. Slide the phone stand back onto the telephone.
Set up the telephone's contrast level. Press the function key, which is marked with a Nortel company logo, followed by the "Star" button and "7." Press a number from 1 to 9 to set the display's contrast level. Lower numbers correspond to a lower level of contrast.
Select a ringtone for the phone. Press "Function," "Start," then "6." Press the number 1, 2, 3 or 4 to listen to the available ringtones. When you are happy with the ringtone that is selected, press the function key again to save the ringtone.
Program the buttons on the right side of the telephone unit. Press "Function," "Star" and "1" and then press the memory button that you would like to program. Dial the number that you would like to save to memory, and then press the button with a logo of a telephone in order to save the number to memory.
Make calls by lifting the handset, pressing a line button and dialing the number that you would like to call. You may also make calls by lifting the handset and pressing a memory button.
Answer calls by lifting the handset.
Press the button with the telephone logo to put a call on hold. Press the button again to return to the call.
Switch from talking on a handset to talking over a headset by pressing the headset button at the bottom-right corner of the telephone.
References
More Articles
Photo Credits
photo_camera telephone image by Vasiliy Koval from Fotolia.com