How to Install a TomTom GPS System
by Aurelio Locsin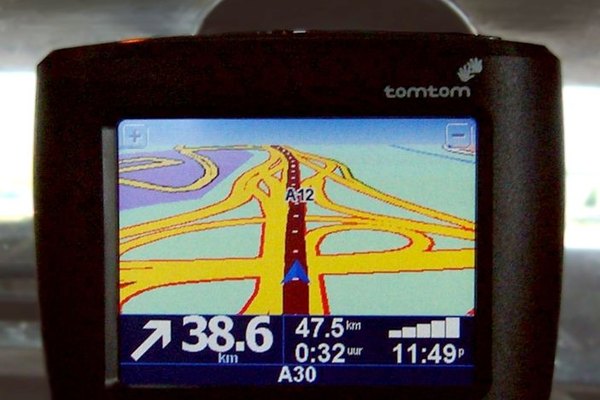 A TomTom Global Positioning System (GPS) is a car device that determines the best route from your current location to a destination that you enter. It then guides you to that destination through voice and visual instructions. Though these installation procedures can apply to all TomToms in general, they are specific to the TomTom ONE model.
Installing
1
Choose an area by the driver's side windshield, below your line of sight, to install the TomTom mount. Make sure your view is not blocked when the GPS is installed.
2
Clean the area with glass cleaner and wait for it to dry completely.
3
Remove the protective film from the mount's suction cup. Moisten the bottom of the cup with a little water so it sticks securely to the glass.
4
Press the suction cup against the windshield glass. If your model has an EasyPort dial, rotate it clockwise until it locks.
5
Plug the power charging cord into your TomTom and the power outlet or cigarette lighter outlet of your car.
Setup
1
Hold down the device switch for up to 20 seconds until a welcome screen appears. If the device does not turn on (the LED light is not green), it may require recharging. Drive your car for a few minutes while your TomTom is attached to the power outlet. Then try turning it on again.
2
Answer the setup questions by tapping the screen. You can change your preferences any time after setup by tapping the "Change Preferences" icon of the "Main" menu.
3
Your device needs to determine its current location, which can initially take up to 5 minutes. Drive your car to an open area without tall buildings or trees. Put your TomTom on the dashboard console so it has a clear line of sight to the sky. When it determines your position, the device shows the driving view.
4
You can now enter a destination by tapping the screen and showing the Main menu. Tap the "Navigate To" button and enter an address.
5
Slide the TomTom onto the mount until it clicks. Twist the device slightly until you can clearly see the screen. Begin driving and follow the GPS directions.
Warnings
close

Many states such as California do not allow attachments to your windshield. Instead, use a dashboard mount such as the Bean Bag Dashboard Mount, also manufactured by TomTom. You can then attach your mount to the surface of the bean bag.

close

To avoid accidents, never program your TomTom while you are driving. Either program the unit before you drive or after parking at a safe location.
More Articles
Photo Credits
photo_camera

Emmanuel Boutet under GNU Free Documentation License