How to Install a Wall Mount for a TV & Hide the Wiring
by David Lipscomb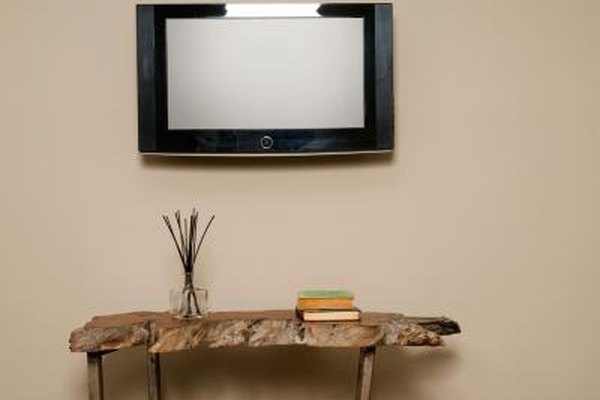 Flat panel televisions draw attention from technology savvy consumers, due to sleek design and modern appearance. Many find that in order to maximize this aesthetic, wall mounting is a must to hide the unsightly wires by concealing all the cables within the wall. Fortunately, the right tools make the installment less difficult, and you safely mount your flat screen and provide a clean entertainment center.
Wall Bracket Installation
Locate two mounting studs using the stud finder. Mark the stud locations with the pencil.
Place the wall bracket portion of the mount on the wall, aligned with the pencil marks. Drill at minimum four holes through the mounting bracket, and into the studs.
Drive four of the included washers and lag bolts through the mount, into the studs. Refrain from driving the bolts in so tight that they begin to bend or buckle.
Find the four plastic caps on the back of the flat panel, covering the threaded inserts in the set. Pop these off using the standard screwdriver.
Align the TV bracket half of the mount with the threaded inserts. Drive the included Allen screws and washers through the mount and into the inserts, using the included Allen key.
Hiding the Wires
Have a qualified electrician install a three-prong grounded outlet inside one of the square cutouts on the wall bracket.
Cut out a two by four inch hole inside the other square opposite the outlet, using the drywall saw. Cut a second identical hole at the base of the wall, at the same height as other outlets and wall plates on the wall.
Drop the retractable fish tape through the top hole, until it protrudes from the bottom hole.
Affix the end of any HDMI or other signal cables to the end of the fish tape with two to three pieces of electrical tape.
Retract the fish tape, pulling the wires through the bottom hole in the wall through the top.
Pry out the perforated back panel of both low-voltage junction boxes, using the standard screwdriver. Push the wires through the boxes at the top and base of the wall.
Slip the boxes into the cutouts in the drywall. Tighten the Philips screws on the junction box to flip down the dogleg attachments, securing the boxes to the wall.
Slide the signal cables through the nose plates. Screw the nose plates to the junction boxes, using the standard screwdriver.
Lift the flat panel onto the wall bracket. Attach the power cord to the outlet and the signal cables to the television in the appropriate ports. Secure any screws on the bracket to secure the television to the wall.
Tip
check

Recruit an assistant to lift the television if you are unsure about your ability do so by yourself.
Photo Credits
photo_camera

Jupiterimages/Photos.com/Getty Images