How to Install a Flat Screen TV on a Boat
by Will Charpentier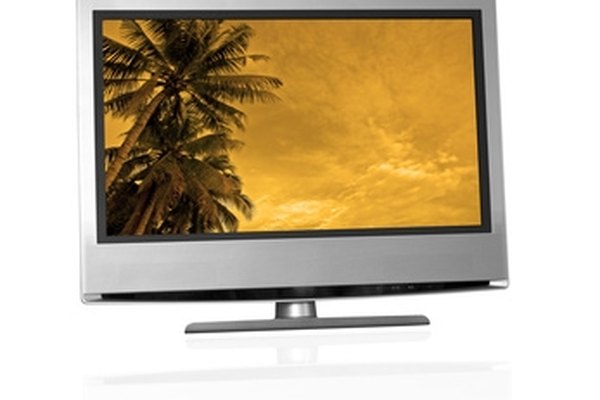 Things on boats either move around or---in the case of a television---are bolted down. They might also be strapped down by a bungee cord or two. In the case of a flat-screen TV, this last option may not be available, since the screen is so thin and easily broken. That means the flat screen TV will have to be bolted in place, just like you would in your home. Since flat screen TVs require a 110 volt A/C current, like that produced by a generator, a power inverter or "shore power" electricity source supplied directly by your marina will be necessary while you're docked.
1
Hold an electronic stud finder in one hand. Press the button on the side of the stud finder and keep the button pressed until you have completed the entire process of finding the stud. Press the stud finder to the wall.
2
Move the stud finder horizontally until the stud finder beeps and the light on the face of the stud finder lights up. Mark this location with a pencil; this is the edge of the stud.
3
Continue to move the stud finder until it beeps and lights again. This is the center of the stud. Draw a vertical line on the wall to indicate the location of the center of the stud. Repeat this process until you have located the studs to which you will mount the TV mounting bracket.
4
Mount the bracket on the bulkhead using the screws supplied with the bracket. Mount the TV to the bracket using the screws (also supplied with the bracket) and a screwdriver.
5
Connect the red lead from the GPS-activated tracking antenna's motor to the boat's common power buss. Connect the green lead from the antenna motor to the common ground.
6
Connect the tracking satellite antenna to the TV by plugging the coaxial cable from the antenna into the audio-visual signal converter system and the coaxial cable from the signal converter system into the appropriate connection on the back of the TV. Plug the signal converter system into a 110 volt AC outlet.
7
Plug the TV into a 110 volt AC (alternating current) outlet.
Photo Credits
photo_camera tropical landscape on flat screen tv image by javarman from Fotolia.com