How to Increase Computer and Start-up Speed
by Contributor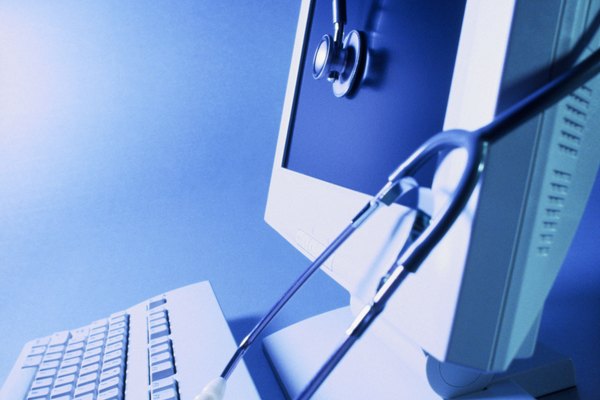 Computers are composed of electronic components and circuits with firmware, an operating system and application software. Perfect harmony of these three lead to the optimal performance and speed of a computer. After hours of usage, your computer may need a "tune-up" to get it back in tiptop shape and running smoothly.
1
Run Disk Cleanup. Click "Start" and type "Disk Cleanup" in the search box. Select "Disk Cleanup" from the search results. Click on the "Drives" list and select your computer's hard drive (usually the C drive). Place a check in boxes next to the "junk" listed in the "Files to delete:" field. The items being removed include the temporary Internet files, the files in your recycle bin and the Windows temporary files discussed in Step 1. Click "OK" and let the disk cleanup utility run and delete the unnecessary files.
2
Uninstall any programs you do not use. Go to "Start," "Control Panel," "Programs" and "Programs and Features." Browse through the programs installed on your PC. Select the programs you want to remove and click "Uninstall." Restart your computer if prompted to do so after the uninstall is complete. NOTE: Only uninstall programs that you are certain you (and your PC) do not use. If you aren't sure what the program is, or what it's used for, leave it alone.
3
Defragment your PC. Go to "Start" and type "Disk Defragmenter" in the search box. Select "Disk Defragmenter" from the results and select your hard drive from the "Current Status" field. Click "Analyze disk" to determine if you need to defragment a particular drive and the estimated time required. Click "Defragment" to start the defragmentation process. This can take several hours -- make sure you have time to let the process finish.
4
Run the performance troubleshooter. Go to "Start," click "Control Panel," type "troubleshooter" in the search box and select the "Troubleshooting" menu. Click on "System and Security" and select the "Check for performance issues" option.
Tips
check

If you follow the above steps, you will notice the difference in your computer speed right away.

check

Restart computer after each change in settings.
Warning
close

Be careful while deselecting services from "SERVICES" and "STARTUP" menu in msconfig. Important services are needed for correct operation of computer.
Photo Credits
photo_camera

Thinkstock Images/Comstock/Getty Images