How to Include Moving Smileys in an Email Signature
by Lynn Mathews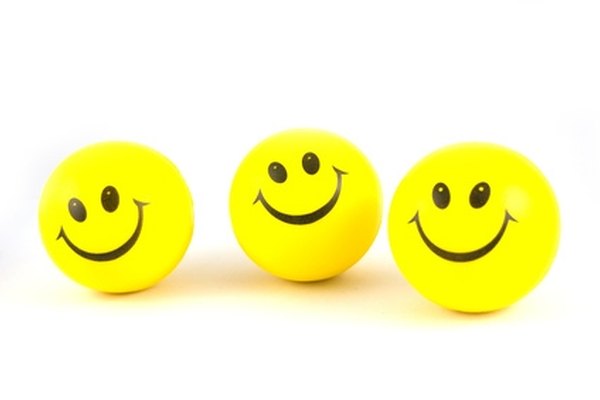 You may find that some email signatures include moving smiley faces. In this case, the sender has likely created a signature that includes an animated GIF (graphics interchange format) file. Just like you would insert a still image or graphic into an email signature, you can insert an animated GIF.
Choose the animated GIF that you want to use in your email signature. Download or purchase an animated GIF file that includes moving smiley faces from an emoticon website. (See Resources) Ensure that you have permission to use any online GIFs. Alternately, create your own animated GIF containing moving smiley faces with graphics editing software like Adobe Photoshop. Create a different layer for each motion that you want to see as part of your GIF animation. Ensure that each layer is slightly different. For example, you might create a first layer with a smiley face on the left side of the file, and a second layer with the same smiley face positioned slightly to the right.
Access the animation settings for your graphics editing software (called the "animation palette" in Photoshop). Put the layers in the correct sequence so that, when strung together, the smiley faces move in the direction you intended. Save the file as a GIF on your hard drive. Give the file a name you will recognize, since you will later need to browse to and select the same file on your hard drive.
Access your email account. Look for an "Options" or "Settings" menu (the exact terminology may differ) where you can add or edit a personalized email signature. Choose the selection to create a new email signature. Fill in the contact information that you want to appear in the signature, such as your name, address, phone number and email address.
Look for an icon or link that represents inserting an image into the email signature, or try right-clicking in the signature editor to see if a drop-down menu appears with an option to add an image. Browse to the saved image on your hard drive and select the animated GIF containing the animated smiley that you created using your graphics editing software. Complete the email signature and verify that your new signature, including the moving smiley, now appears in new messages that you create.
Tip
check

Not all email providers permit users to create default signatures or include animated GIFs in their signatures, so check the settings for your email account to determine if and how you can add an animated GIF to your signature.
References
Photo Credits
photo_camera 3 balls with a smiley image by Ramona smiers from Fotolia.com