How to Move Photos From Your iPod to Your Computer
by Aaron Parson
; Updated February 10, 2017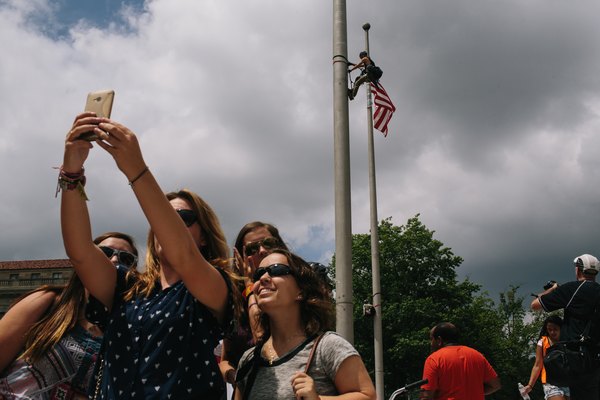 When you connect your iPod Touch to iTunes, you sync purchased music and apps in both directions. Following the pattern, it's logical to think that the Sync Photos option would transfer pictures taken with your iPod Touch to your computer, but try it and it will only copy images from the computer onto the iPod. To transfer the snaps from the iPod, use the photo tools built into Windows 8, the Share feature on the iPod or a syncing app.
Transferring Photos to Windows
Windows includes a utility for importing photos without requiring any additional software. Connect your iPod with the USB cable and press "Windows-E" to open the Computer window. Right-click the iPod's icon and pick "Import Pictures and Videos." Choose to either import all the photos or select individual pictures and then press "Import." By default, Windows copies pictures to the My Pictures folder in your Windows user folder. The utility opens this folder automatically when it finishes, so you don't have to dig around to find it. To change the download folder or to change the setting to delete the images from your iPod after importing them, click "More Options" before importing the photos.
Accessing Photos Manually
If you prefer to view and move your pictures by hand, double-click the iPod in the Computer window instead of right-clicking it. Open each folder inside, starting with "Internal Storage," until you reach a list of all your pictures. Select the images you want to import and drag them to the Windows desktop or another folder on your Computer. Afterward, press "Delete" to erase the selected photos on the iPod. You can open images directly from the iPod folder, but you can't edit or rename them without first copying them to the computer.
Copying Images to Social Media
With an Internet-connected iPod Touch using iOS 7 or higher, you can share your photos online without going through your computer. Open the Photos app, choose a picture, press the "Share" icon -- a square with an up arrow -- and choose Twitter, Facebook or Flickr. The first time you share pictures with a particular network, your iPod prompts you to sign in to your account. You can even use this method to send images to yourself privately for those times when you can't find your USB cable: Tap "Facebook" and set the audience to "Only Me." After you share the image, log in to Facebook on your computer and save the image.
Syncing Over the Internet
If you already use a cloud storage service such as Dropbox, Google Drive or SugarSync, download its app on your iPod to sync photos to your computer over Wi-Fi. The Dropbox and SugarSync apps can automatically sync every photo you take as soon as you connect to the Internet. The first time you run either app, it prompts you to press "Enable" to use its photo service, called Camera Upload in Dropbox or Camera Backup in SugarSync. Google Drive does not have an equivalent feature, but you can sync specific images by pressing "Create" and then "Upload Photo or Video."
Photo Credits
photo_camera

Lexey Swall/Getty Images News/Getty Images