How to Hide the IP Address in an Email
by Erin McManaway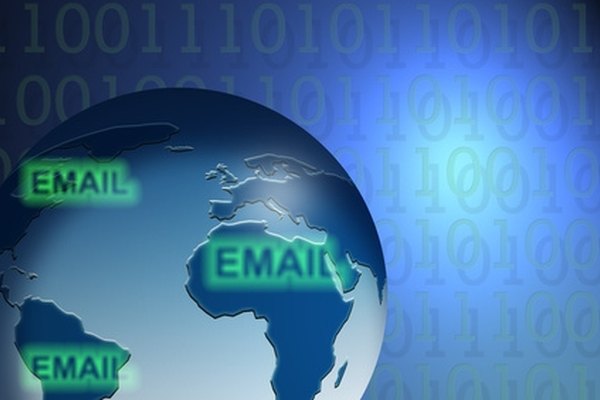 Each computer on the Internet has its own specific Internet protocol address, which other users can see in the extended header section of a sent email. While this is usually not dangerous, there are times and reasons a user might want the extra security of not attaching her real IP address to an outgoing email. You can use a proxy to alter or hide your IP address if you are sending mail from a browser-based Web-mail system.
Free Public Proxies
1
Go to a free public proxy website such as Web4Proxy.com, Unlocate.me or Free Public Proxy, whose link is provided in Resources.
2
Enter the address of the browser-based email you use into the text box at the top of the Web page. For example, if you use Gmail, enter "http://www.gmail.com" into the text box.
3
Configure your proxy. Some sites allow you to choose which proxy server to use, if you want to allow cookies and scripts or if you want to encode the page.
4
Click the button next to the text box and allow the Web page to load within the public proxy.
5
Create your email and send it from your browser.
Firefox Proxy Add-Ons
1
Launch your Firefox browser.
2
Click "Tools" from the top menu and choose "Add-ons."
3
Click "Get Add-ons" and type "proxy" into the search text box.
4
Install a proxy add-on from the list for your Firefox browser. You will have to restart your browser for changes to take place.
5
Make sure your proxy is toggled on and then sign into your browser-based email to create and send your new mail.
Proxy Software
1
Download and install proxy software such as HideMyIP, Anonymizer.com's Anonymous Surfing or GhostSurf from the Internet. Some proxy programs may offer a free trial but must be purchased after a certain amount of time.
2
Configure your proxy software. Each software may provide different levels of security depending on which websites you visit. You will want to make sure you have high security set on your browser-based mail website.
3
Be sure your proxy software is running and then sign into your browser-based email to create and send your new mail.
Photo Credits
photo_camera Email Concept image by wayne ruston from Fotolia.com