HDTV Antenna Design and Assembly
by Brian Flax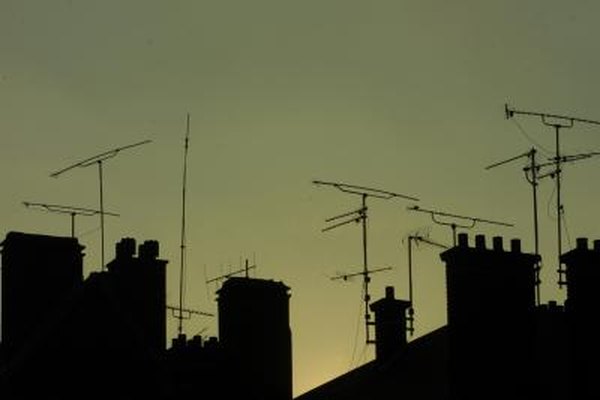 If you own an high-definition television, you don't need to subscribe to cable or satellite services to receive programming. Local networks like ABC, NBC, FOX and CBS offer programming over-the-air free of charge. To receive these broadcasts in HDTV format, you'll need an antenna mounted indoors or outside of your home, depending on how far from the broadcast towers you're located. Antennas are available in a variety of shapes, sizes and price points. The choice you make depends on your needs and living situation.
Local Broadcasts
The first step in determining the type of antenna you'll need is to look at what channels are available in your area. A list of channels can be found by visiting AntennaWeb, a website run by the Consumer Electronics Association and the National Association of Broadcasters (see Resources). Enter your ZIP code or address to pull up a list of channels available at your location and the distance to the transmitters. The type of antenna you'll need is determined by how far you are from the broadcast towers. If you live within a metropolitan area, an indoor antenna should work just fine. If you live in a more rural area, you may need an outdoor, roof-mounted antenna for proper reception.
Indoor HDTV Antenna
An indoor HDTV antenna can be installed anywhere in your home as long as the cabling can reach the input on your TV. If you live within a city, you may be able to sit an indoor antenna on top of or around the TV. Indoor antennas work best when you're located within a few miles of the broadcast towers. You may find that interference from other electronics, lights or walls may degrade the quality of the signal you're able to receive. The indoor antenna you choose should support both UHF and VHF frequencies, since broadcasters use both to transmit programming.
Outdoor HDTV Antenna
If you live in a rural area or more than a few miles from your local broadcast towers, an outdoor antenna may be a better choice. Outdoor HDTV antennas are generally larger in size with the capability to receive signals from further distances. Outdoor antennas must be assembled and installed with a direct line-of-sight to the broadcast towers and generally don't work well if you're located more than 70 miles away. An outdoor antenna should be installed on the roof of your house, or on a pole mount if possible. Outdoor antennas can also be installed within an attic, but expect a 30 to 50 percent reduction in signal.
Installation
TV signals are directional, which means you'll need to aim the antenna to receive programming. Visit the AntennaWeb website to determine the direction of the towers in your area. After you know where the towers are located, use a compass to aim your antenna in the correct direction. To connect the antenna to your HDTV, use 75-ohm coax cabling. Coax cables are shielded from electrical interference from your home's wiring and last a long time. If you find you're not receiving a good signal, you can install an amplifier between the antenna and TV.
References
More Articles
Photo Credits
photo_camera

Photos.com/Photos.com/Getty Images