What Happens When You Sync a New iPhone With a Computer That Has the Data of Your Old iPhone?
by Danielle Fernandez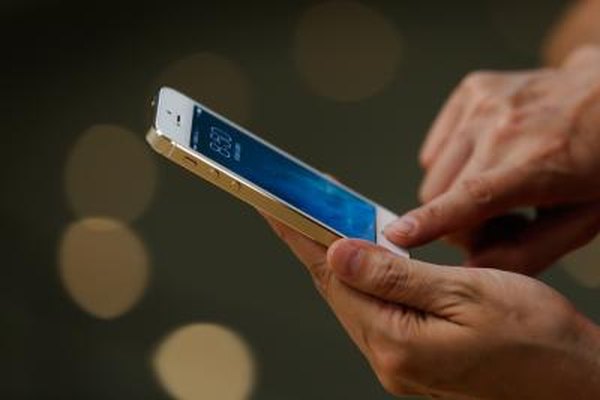 With the iTunes software, you can sync an unlimited number of iPhones and customize the transfer settings so they are unique for each device. Though the process is slightly different depending on your needs, you can effectively implement this using the same Apple ID over all devices or with a separate account for each unique user. An old iPhone's backed up data, for example, doesn't necessarily need to be transferred into a new iPhone if you don't wish to maintain the same settings.
Deciding What to Sync
The first step in syncing multiple devices is to decide what you would like to transfer from the computer. If the new iPhone is a replacement for the old, you can simply set up iTunes to import all of your old settings into the new device. If you are maintaining both devices -- for example, you will use the new iPhone and your spouse will use the old -- you can elect to manually transfer what data you want to keep on the new iPhone and avoid syncing the rest.
Eliminating the Old iPhone
Connect the new iPhone to your computer, select it from the available device list, and then select the "Summary" tab. If you are ditching the old iPhone and want to transfer all data, check "Automatically Sync when this iPhone is Connected." You can then restore from an old backup or select "Sync" to transfer all content from your iTunes library onto the new phone. This imports all of your old iPhone's settings, preferences and data into the new device so that it looks and feels the same.
Using Both iPhones
To keep both devices active and use the same Apple ID but transfer unique content to each, deselect automatic syncing in the Summary tab, and then enable the last checkbox, "Manually Manage Music and Videos." From there, configure sync settings for each content tab in iTunes. For example, click the "Music" tab, select individual titles for transfer, and then click "Info" to deselect contact and calendar syncing. Note that you can connect both iPhones to iTunes simultaneously and alternate between them using the Devices menu.
Separate iTunes Libraries
You can also create separate iTunes libraries using the same Apple ID on the same computer -- in other words, one iPhone syncs with one library, and then you switch to another library to sync the other device. This is effective, for example, if you want to use one iPhone as a music player at the gym and the other iPhone to manage the rest of your music library. It also eliminates the hassle of manually selecting -- and inadvertently missing -- individual media files, and allows you to implement automatic and unique syncing for both devices.
Creating Separate Libraries
Hold down the "Option" key on a Mac or the "Shift" key on a PC while iTunes is opening, and then click "Create Library" to create an alternate library. Open iTunes' "Preferences," select the "Advanced" tab, and then deselect the option to "Copy Files to iTunes Media Folder when Adding to Library" to prevent iTunes from duplicating existing files in the new library folder. Add content to the new library, and then connect your new iPhone and sync. To manage the old device, quit iTunes, hold the "Option" or "Shift" key down again while it restarts, select "Choose Library," and then select the original iTunes library instead.
Multiple User Accounts
If your aim is to manage both devices on a single computer but use different Apple IDs for each iPhone, create multiple user accounts on the computer. On a Mac, click "System Preferences," and then choose "Users and Accounts." On a PC, enter the "Change PC Settings" menu, and then create a new ID within the "Users" option. In either case, the idea is to log out of one user account and into another -- similar to restarting your computer -- so that each user has access to a unique iTunes account.
Photo Credits
photo_camera

Lintao Zhang/Getty Images News/Getty Images