Get Top Dollar When You Sell or Trade-in Your iPhone
By melaniepinola
Updated October 17, 2017
Getting the iPhone 6 or iPhone 6 Plus? Or already got one? Sweet! Now's the time to figure out what to do with your old iPhone. This week, let's talk about how to prepare your phone for a trade-in or sale and where you'll get the most money for your iPhone.
The Time Is Now
Every time Apple announces new iPhones, eager shoppers look for deals on the old versions. The longer you wait to sell your phone, the more your value iPhone loses. USell says it expects iPhone offers to drop 20 percent in the weeks following the launch. (Last year, when the iPhone 5 launched, old iPhones were worth five percent less after one week, 12 percent less after two weeks, and 20 percent less after three weeks.)
Wait until you have the new iPhone in hand before you sell or trade-in your current one. The steps below help you jump on the sale to maximize the amount you'll get for your phone.
Get Your iPhone Ready
Back up your iPhone data so you can later restore it to your shiny new iPhone 6 or iPhone 6 Plus — and so you don't inadvertently give someone else access to your personal data.
To back up your iPhone, connect it to your computer, open up iTunes (make sure you're running the latest version of iTunes), and go to "File," "Devices," then "Backup."
Then you can wipe all the data from your device. First, turn off iMessage if it's active, and also turn off Find My iPhone (both under Settings on your phone). Go to Settings, General, Reset, Erase All Content and Settings.
Gather up your cable, charger, and original box (hopefully you still have it, since that will improve your selling price) and physically clean up your iPhone so it looks good as new.
The Best Places to Trade In Your iPhone
Trading in your iPhone depends on the the phone model as well as your carrier. The iPhone 5s trades in for more than the iPhone 4, for example.
The big wireless carriers are all offering iPhone trade-in programs — even if your iPhone is from another carrier and if you're a new customer. Generally, they offer the best deals on the iPhone 4 and 4s — around $200 in credits or gift cards for these older iPhones. CNET has rounded up what the big 4 are offering for iPhones from 4 and up.
If you have an iPhone 5, 5c or 5s, however, also take a look at resellers, because there you can get more than the $200 to $300 carriers are offering. If an Amazon gift card is okay with you, for example, (and, really, Amazon credit is like cash for those of us who shop there frequently) you can trade-in your iPhone 5s (Verizon) for a $400 gift card.
If you prefer cash, Glyde will offer $375 for the Verizon iPhone 5s.
This graphic from the Wall Street Journal compares the trade-in value of your iPhone by reseller or retailer: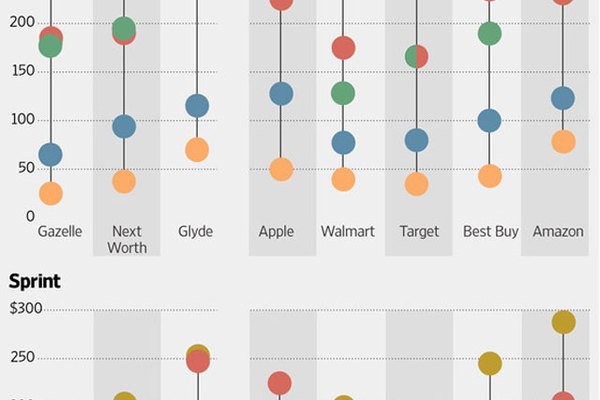 One thing to note is that Gazelle has a 45-day lock-in price, so you can hang on to your iPhone until the new one arrives and still get today's prices. That insurance might matter more to you than getting top dollar later.
The WSJ's chart also doesn't cover all the resellers out there. Flipsy can compare more trade-in and buyback prices based on your iPhone model and carrier.
Sell Your iPhone Yourself
Trading in your phone is the easiest way to get rid of it and get some money back. However, if you are willing to put a little more effort into selling your iPhone (and dealing with possible scammers), Craigslist and eBay may be better places for you.
Here you can set your own price and limits and wait until you get the best offer.
On eBay, for example, I found that right now there's a 64GB Verizon iPhone 5s going for $355 after 27 bids (with a $550 "buy it now" price). Others are listing their iPhones around $450, and the same is true on Craigslist.
When selling your iPhone yourself, take into consideration any listing fees and the overall hassle and time it might take.
In general, using a reseller or trading the phone in to Amazon is the best balance of convenience and money back — but it depends on the iPhone you're selling.
Thankfully, iPhones have a good resale value. When you get your new iPhone, just take care of it and keep the original packaging, so you're ready for the next iPhone upgrade.
Image credit: Dennis Yang (Flickr), Wall Street Journal