Four Surprising (and Cheap) Ways to Watch Movies on Your Phone
by Rick Broida
Updated October 17, 2017
Taking a trip? It's always a good idea to stock your phone and/or tablet with movies and TV shows, because, let's face it, reading is for suckers.
By now you probably know the tried-and-true methods of getting video to go: buying or renting content from Amazon Instant Video, Google Play, or iTunes. And, well, that's about it, right?
Wrong! Turns out there are lots of other ways to fill your mobile movie theater, and some of them are free — or at least free after a fashion. ("Existing subscriber" is a key phrase, here.) Take a look, then hit the comments to share your favorite non-traditional sources for offline movie viewing.
Amazon Prime Downloads
One of the best-kept secrets of your Amazon Prime subscription is that it allows you to download movies and TV shows for offline viewing. Not all movies and TV shows, mind you, and the option is limited to Amazon's Kindle Fire tablets. (Sorry, iPad owners — you can stream Prime, but you can't download.) But it's still an amazing way to keep yourself entertained on the go without coughing up extra cash.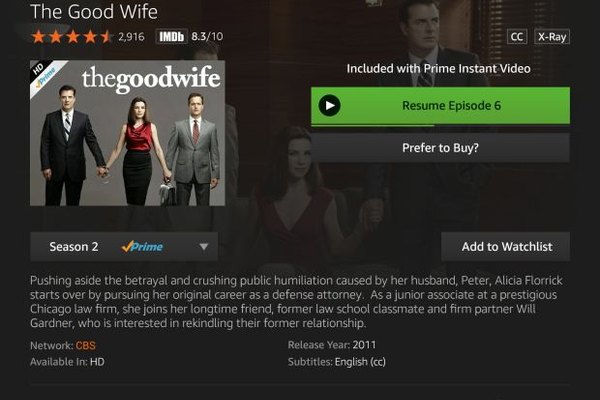 So, what's available for road shows? Way more TV series than movies, which is fine because TV tends to be way more entertaining. Before your next trip, download a binge-ready batch of "The Americans," "Deadwood," "Downtown Abbey," and "The Good Wife."
PlayLater
Billing itself as "a DVR for online video," PlayLater lets you record streaming video to your hard drive so you can watch it offline, whether on your laptop or something smaller.
I'm not just talking YouTube, either: PlayLater can record from Netflix. And Hulu. And Amazon and HBO Go and most of the major networks. But, wait, that must be illegal, right? The company swears it breaks no laws, and the best evidence of that is time: PlayLater has been around since 2011.
If there's a downside, it's that PlayLater records in real-time, meaning it doesn't just download movies and TV shows in a few minutes. If you want to save, say, "Star Trek Into Darkness" from Netflix, be prepared to wait a good two hours. To take the best advantage of PlayLater, you need to plan ahead.
The software is currently on sale for $19.99 per year, or $39.99 for a lifetime license. There are no additional charges other than the cost of your various subscriptions (Netflix, HBO, etc.).
Xfinity TV Go
Everyone loves to hate Comcast (I know I do), but the cable provider does offer a pretty sweet option for subscribers: Its Xfinity TV Go app lets you download select movies and TV shows to your Android or iOS phone or tablet.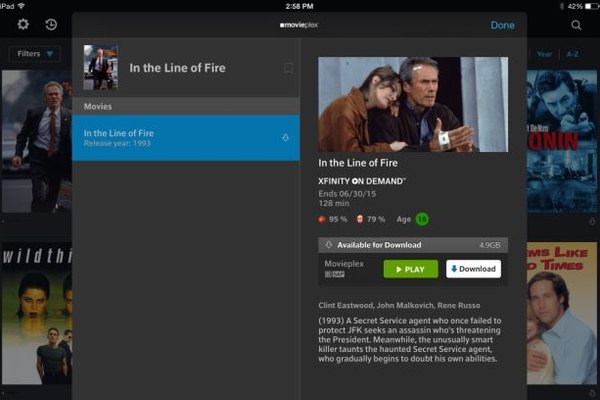 Thus, if you're a subscriber to, say, Showtime, you can grab a bunch of episodes of, well, "Episodes." Or "Homeland." As for movies, it's mostly older fare — but if you've never seen "Seems Like Old Times" or "In the Line of Fire," stock up! And subscribers to Starz, Encore, and Showtime will have plenty of newer, higher-profile titles to choose from.
Oh, Canada!
If you're a fan of animated films, documentaries, and/or indies, this is your lucky day. NFB Films offers more than 2,500 movies, and you can download them to your phone or tablet for viewing on the go.
What the heck is NFB? It's short for National Film Board, which might best be described as Canada's PBS. Although NFB's Android and iOS apps let you stream content when you're online, they also have a "watch later" option that'll save them to your device for later. (Take note, however, that these downloads expire after 48 hours, not unlike the movies you rent from Amazon or Apple.)
Obviously you won't find any Michael Bay blockbusters here (and, really, why would you want to?), but for any fan of fine cinema, NFB Films is a goldmine. And it's free. Free! FREE!!
More Articles