How to Fix My PC Audio
by Jackie Michael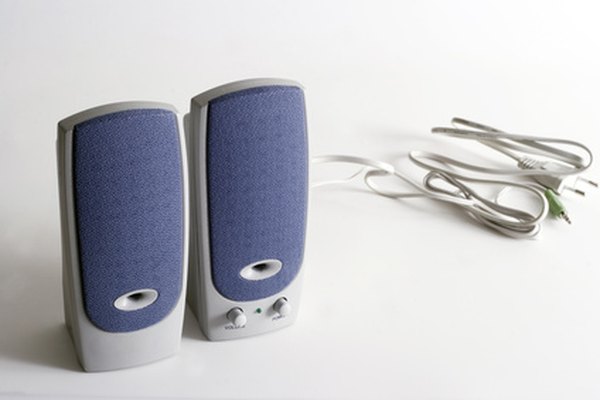 Having trouble with the audio on your PC can mean a number of things. It first requires some detective work and troubleshooting to determine what the cause of the problem is. Using the Windows help section to troubleshoot your audio problems will help to discover what you can do to fix it. If the audio equipment is not being recognized, you will need to uninstall it and reinstall the hardware and drivers. Alternatively, your problem could point toward a missing or corrupt driver or a DirectX issue.
Click "Start," "Help and Support" and wait for the "Help and Support" window to open. In the "Fixing a Problem" section, click "Troubleshooting Problems." In the right column, in the "Overviews, Articles and Tutorials," click "List of Troubleshooters." Click "Sound" when the list shows. Select the subject that applies closest to your situation. Follow the list of help and instructions through the troubleshooter to attempt to fix the problem.
Replace the volume icon if it is missing. Click "Start," "Settings" and "Control Panel." Click the "Sounds & Audio Devices" icon. You will see the "Volume" tab, which will show the audio device you are using to hear sounds on your computer. You will also note the level of volume to which it is set. Ensure the "Place volume icon in the taskbar" box is checked.
Test your audio by checking whether the system is set to "Mute." You may be playing a sound, but you will not hear it if the volume is muted. Above the "Place volume icon in the taskbar" box is the "Mute" button. This should not be checked if you wish to hear system sounds.
Click the "Audio" tab and observe the default device installed. It needs to be the one that you listen to the computer sound through (such as Conexant). The sound recording box below will indicate the recording device for sound recording and speech. The default device will also be something like a Conexant device.
Click the "Voice" tab and observe the default audio playback device in the box. The voice playback default device should be the same as the sound playback device in the "Audio" tab. The voice recording box should also contain the same default device shown in the sound recording box on the "Audio" tab.
Click the "Hardware" tab to display all the listening and audio devices installed. Click each one individually and then click the "Properties" tab for each device, to test their functionality. The "Properties" box will indicate whether each device is working properly.
If any device you select indicates that it is not functioning properly, click the troubleshooter button to enter the "Help and Support" section. Follow the questions and select the subject that applies to your circumstances. Continue with all aspects of the troubleshooter until you have discovered the issue and addressed it. Your audio should now be functioning within normal parameters.
More Articles
Photo Credits
photo_camera computer speakers image by sarit saliman from Fotolia.com