The Fastest Modems for the Internet
by Daniel Westlake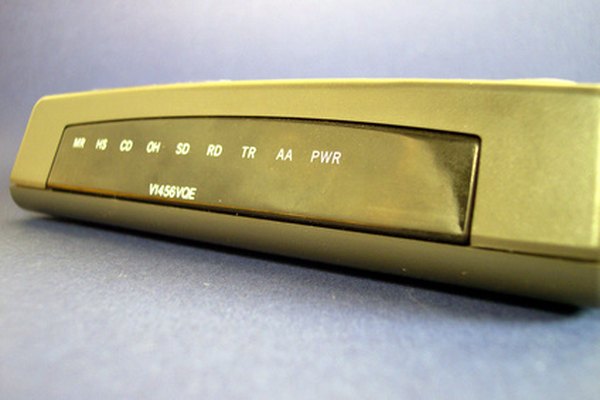 A number of factors affect Internet speed, but one of the main factors is what type of modem is being used because some modems can process information more rapidly than others. Using a fast modem will help you to know that any delays in your Internet connection are due to your Internet service provider and not your own hardware.
ISDN Modem
Integrated Services Digital Network (ISDN) modems use a digital telephone connection. It has two digital phone lines and allows for high-speed data and voice connections. Each channel can support up to 64 kilobytes per second, offering much cleaner and more error-free transmissions. These ISDN modems are usually used in large office buildings; they can be expensive to install because they require a fiber optics cable. Gamers who like to play games online regularly also will have ISDN lines installed, even though they aren't promoted by local phone and Internet companies.
Cable Modem
Cable modems are attached to a cable that runs into homes providing both Internet and cable television. As more and more people are switching to DSL, the number of cable modems are becoming fewer. cable modems still have their advantages, however, like a single consistent and reliable IP connection because the cable is always on. The Motorola SURFboard SB6120 cable modem is one of the best cable modems on the market in 2010. It is incredibly fast, reliable to a fault and is meant to be running constantly. These modem models are even Energy Star compliant, so they save you money on electricity consumption.
Wireless Modem
Modems that can be used for wireless Internet are becoming more common and more powerful. The Telstra BigPond Elite Network Gateway wireless modem is considered one of the fastest on the market, with four Ethernet ports for direct connections to PCs and two USB ports for connections to printers and hard drives. But it is best known for the speed and strength of its wireless connection with a 3G HSPA connection, providing download speeds of 8 megabits per second. The Telstra BigPond Elite Network Gateway wireless modem works with both Mac and PC models of computers.
Photo Credits
photo_camera dial up modem image by timur1970 from Fotolia.com