How Do You Make a Calendar on the Computer?
by Ben Lingenfelter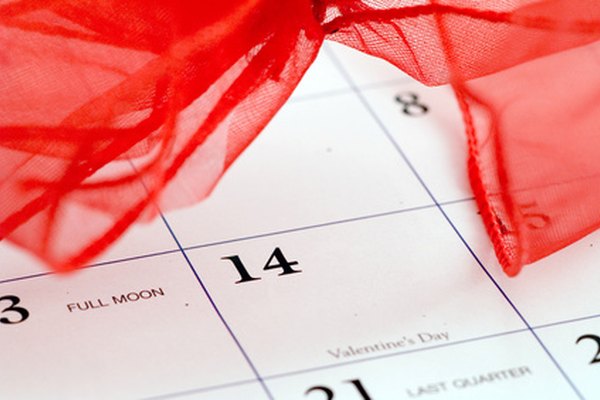 Making a calendar on a computer is a simple and useful task. Instead of having to buy a calendar at the store, you can just make one yourself, and you can personalize it even before printing, if necessary. There are sites online that will generate printable calendars, and there are programs already on your computer (likely) that will generate a calendar, too.
Making a Calendar Online
Find a calendar website. There are several websites that will produce a good calendar, based on criteria that you provide. Among the many, here are three that work well: myfreecalendarmaker.com, freeprintablecalendar.net, and eprintablecalendars.com.
Choose a date, and for some, a month. Unless you have a printer that will print large sheets of papers, the month-by-month calendar pages are most useful. All three of the above websites give you the ability to print one month at a time. All three provide clear instructions, and they produce a very easy-to-read product.
Click on "Download" to download the finished calendar to your Desktop or other pre-chosen destination on your computer.
Open the .pdf file and print. The one-month printout will fill one page very nicely.
Using Software to Make a Calendar
Use Microsoft Word to make a calendar. Microsoft Word has always had templates pre-installed that give you the ability to create a calendar for any occasion. There are more templates online available for download that extend this capability.
Open Microsoft Word. Click on "File"-->"New" and choose "My Computer." Choose the "Other Documents" tab and then click on "Calendar Wizard." (In Word 2007, it's "New"-->"Templates"-->"Calendar"-->"Other Calendars.")
Choose Style, Month(s), and Layout. Microsoft Word's calendar wizard takes you step-by-step through the process of making a calendar, allowing you to choose styles, backgrounds and all sorts of other options.
Download new templates for Microsoft Word at several places online (See "Resources" section for link). There are always new, interesting calendar templates for Word at the Microsoft Office website.
Tips
check

You can make calendars with several other pieces of software, too. Microsoft Outlook's calendar feature is made for personal planning and scheduling, but you can print from it, too. Openoffice.org has a similar calendar feature, too, with downloadable templates.

check

Google Docs, an online word processing application, also has templates for calendars. If you have a gmail email account, accessing this feature is a few clicks away.
References
More Articles
Photo Credits
photo_camera calendar with bow image by Photoeyes from Fotolia.com