How do I Troubleshoot a Flashing Yellow Light on a Printer That Won't Print?
by Bonnie Conrad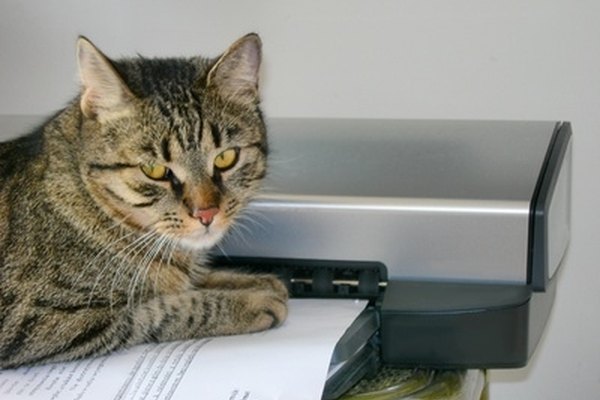 When working with a printer that does not print, it is always best to use a step-by-step approach to troubleshooting. Many different things can cause a printer to malfunction, from problems communicating with the computer to stuck printer cartridges and broken paper trays. Eliminating each possibility when the printer flashes a yellow light is the best way to get the printer back in service quickly.
Log on to your computer and click on the "Start" button. Choose "Control Panel" from the menu, double-click "Administrative Services" and then "Services." Scroll down to the "Print Spooler" service and make sure it is running. If the print spooler is not running, the printer cannot communicate with the computer, and it might flash a yellow light to indicate a lack of communication. Right-click the "Print Spooler" service and choose "Start" and see if that resolves the issue.
Shut down the printer and remove the power cord. Allow the printer to remain off for at least two to three minutes to reset its memory.
Remove the printer cable from the back of the printer, then turn the printer back on. Wait for the printer to come up, then press and hold the power button until a test page begins to print. Printing a test page verifies that there is no physical problem with the printer.
Shut the printer off again, then replace the printer cable and turn it back on. Wait for the ready light to come on, then send a print job to the printer from your computer.
More Articles
Photo Credits
photo_camera dun cat - printer image by Maria Brzostowska from Fotolia.com