Do iPads Have USBs?
by Anne Hirsh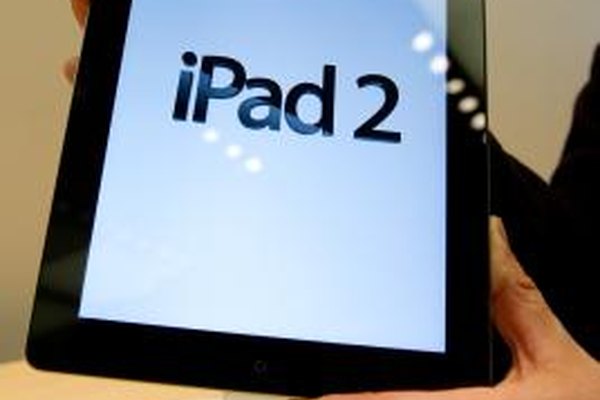 Apple's iPad is a mobile computing device designed for a workflow without accessories. It has no built-in USB ports and will not support most USB devices. However, it does come with a USB cable to connect it to your computer's USB port for setup, syncing and backup procedures. This cable is also the charging cable when plugged into its included wall charger's USB port.
iPad Ports
All iPad models include two basic ports: a headphone jack and a 30-pin connector called the docking port. The headphone jack supports 3.5 mm connectors, common on earbud and other modern headphone styles. Other devices designed for this jack also work with the iPad, including some credit card reader hardware. The 30-pin connector supports Apple accessories such as the keyboard dock, camera connection kit or video out adapters. Wi-Fi + 3G models also have a SIM card tray; Wi-Fi Only models do not have this extra port.
USB Cable
The USB sync cable included with your iPad will connect the iPad to a desktop or laptop computer. These cables are compatible with standard and high-powered USB 2.0 ports, although the iPad will not charge over USB without a high-powered port. This cable's purpose is data transfer to and from the iPad, as well as charging the battery. The iPad's software may not support any other usage.
USB In
The iPad camera connection kit lets you use a USB cable to transfer photos from your camera or supported audio device to the iPad. The kit contains an adapter that turns your docking port into a USB port. This port will not charge your USB devices, and the iPad's software does not support many USB connections. For example, although you can plug a USB mouse into the camera connection kit, the iPad's software does not support mouse hardware because it requires different programming than the touch interface. Some USB keyboards and headphones may work with this adapter kit.
USB Out
The iPad video adapter kits work much like the camera kit. Any of the Apple video adapter models designed for the iPad can plug into your docking port. These adapters convert that port to various video out connections, such as HDMI. Through this connector, you can connect the iPad to your HD TV or a projector for presentations. Not all apps on the original iPad support video out processes, but the iPad 2 offers full mirroring, meaning anything you can show on your iPad screen will work with your TV or other monitor.
References
Photo Credits
photo_camera

Ian Gavan/Getty Images Entertainment/Getty Images