How Do I Make the Ink Level Show on My HP Every Time I Print a Document?
by Lanae Carr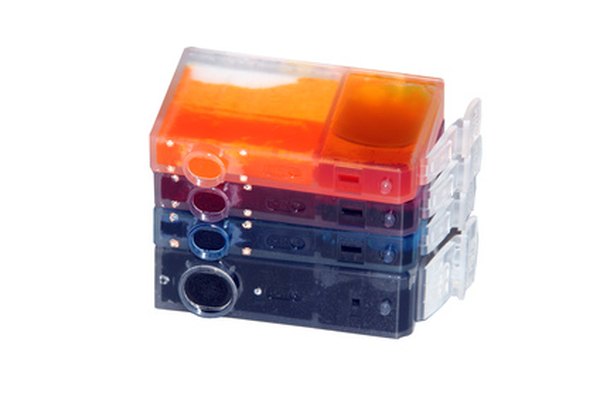 Many HP printers come with display screens that allow you to view important messages regarding your print settings. For example, following each print job, a notification will appear on the screen showing the current black and color ink levels. Sometimes when you replace the print cartridges or reset the printer, the ink level indicators no longer show on the display. You can troubleshoot your printer device so that the ink levels show on your HP printer each time you print.
Open your HP printer and remove the ink cartridges. Turn off your printer and wait 30 seconds. Next, turn your printer on and wait until the product display prompts you to install the print cartridges.
Lift the printer cover, then wait until the print cartridge cradle becomes idle and silent. Open the cartridge carriage by pressing down lightly on top of the cartridge latch.
Pull out the bottom of the cartridge latch to unhook it. Next, hold the print cartridge so the nozzles are down and the contacts face toward the printer, then slide the cartridge into the carriage.
Push your printer cartridges into the slots until you hear them click in place. Close the printer cover and wait for your ink reading.
Tip
check

In older printer models, your ink levels will show on your computer screen. If you do not see the ink levels after printing, double-click the "Printer and Faxes" folder under your computer's Control Panel. Right-click the icon for the product and click "Preferences." Click the "Estimated Ink Level" tab and adjust preferences so that the ink level shows after printing.
Photo Credits
photo_camera printer cartridge image by hugy from Fotolia.com