How to Display My Webcam
by Andrew Aarons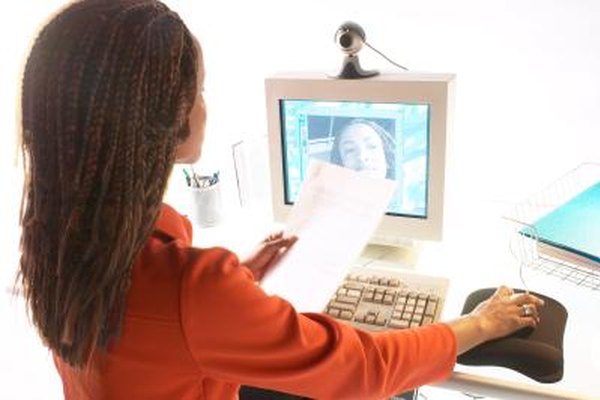 Most laptop computers in 2011 come with built-in webcams, making video chatting with friends and family a breeze. Desktop computer users can buy external webcams to get into the video chatting game. These webcams attach with a USB cable and come on when you want them to. All webcams have specific software – both device drivers (which help the computer use the device) and management software (for changing webcam settings and adding fun effects) that you need to install in order to use your webcam.
1
Click "Start" and choose "Control Panel." Then click on "Hardware and Sound" and choose "Device Manager" to open a list of all of your computer's hardware. Expand the list beside "Imaging devices" to see the name of your webcam, and then double-click on the webcam to open its properties. On the general tab, make sure you see "This device is working properly." If you don't see this message, contact your computer manufacturer or webcam manufacturer to troubleshoot the device.
2
Launch your webcam-specific software to test the camera and make sure it can display correctly. Every webcam comes with different software, so you might have to dig around on the "Start" menu to find the software for your camera. When the software loads, it displays your webcam image for you to see. Some companies, like CyberLink or Logitech, bundle the webcam with software that allows you to manipulate the image by adding effects and zooming or panning the camera (if only slightly). You can use these programs to take still pictures or record videos.
3
Open an instant messaging or peer-to-peer communications program to display your webcam to your contacts. You can use programs like Skype, Windows Live Messenger or even Gmail to video chat. Log in with your user name and password (or create an account) and then start a conversation with your desired video chat partner. Click "Video call" in Skype or Messenger to begin a video conversation with your chat partner. Your webcam automatically displays when you begin a video call, though it might take a few seconds to initiate, depending on your Internet connection speed.
4
Update your device drivers and webcam software if you have problems displaying your webcam. Check the support site for your computer or for the camera's manufacturer for updated software. If you use a laptop from a major company like Dell or Hewlett-Packard, your system will prompt you intermittently to update your webcam drivers.
Photo Credits
photo_camera

Hemera Technologies/Photos.com/Getty Images