Differences in Copy Paper Weights
by Avery Martin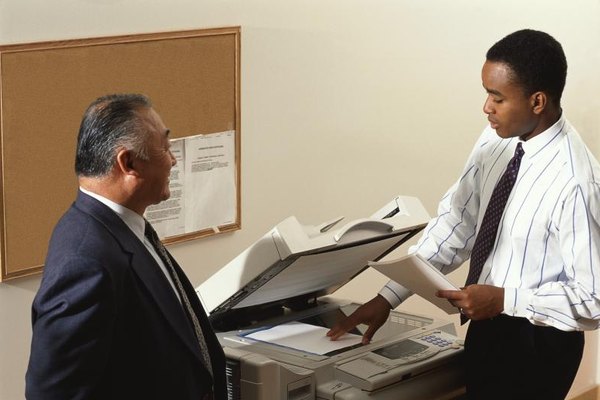 Copy paper weights refer to the total weight of the paper as measured in pounds. Each copier has its own criteria for the type and thickness of paper it can support. Understanding the different paper weights and how that affects the thickness of the paper can help you select the correct paper for your machine. In general, a higher weight paper also has a greater thickness.
Paper Types
The paper type has a direct impact on the total weight. Most copy machines use a type of paper called bond or copy paper with a 20-pound weight. However, copy machines can usually support 22- to 24-pound paper as well. Generally, heavier papers work best in laser printers and inkjet printers. Paper comes in different grades based on their weight. Bond paper includes 16-pound, 20-pound and 24-pound papers. Text grade paper refers to heavier papers in the range of 60- to 100-pounds. Offset grade usually uses between 50- to 70-pound paper. Cover paper comes in 60, 65, 80, 100, 110 and 130-pound weights. Generally, only bond paper is used in copy machines.
Basis Weight
The basis weight refers to the total weight of a stack of 500 sheets of paper, before it gets cut into its distribution size. For example, copy paper comes in a ream with a dimension of 17-by-22 inches. The ream later gets cut down to the standard 8-1/2-by-11 inch paper. U.S. paper manufacturers measure the weight in pounds. This is why you have different weights for various types of paper. A ream of 500 sheets of 20-pound paper should weigh exactly 20 pounds. When determining the basis weight, different types of paper also use their own specific sheet size. For example, Cover paper has a basic size of 20-by-26 inches. Tag Stock has a basic size of 24-by-36 inches.
GSM and Pounds
The Metric system measures paper in grams per square inch, while the U.S. system measures the entire sheet of paper by pounds. Since different types of papers have different sizes, the pounds calculation doesn't give a good indication of the overall thickness, also known as caliper. When comparing different paper weights, you can use an equivalents chart to convert the basis weight in pounds to grams. The equivalent weight of paper provides the grammage equivalent for the basis weight of a sheet of paper as measured in pounds. For example, a 13-pound sheet of stock paper has an equivalent grammage of 49GSM.
Paper Caliper
Low GSM numbers indicate thinner, or lower caliper, sheets of paper. This explains why, in the U.S. system, some thicker papers have the same or lower weights than some thinner papers. However, in general, a paper with greater caliper has a greater weight. For example, an 80-pound, 120GSM text paper weighs more than the 32-pound, 120GSM bond paper, even though both papers have the same thickness. The 80-pound paper weighs more because it comes in a much larger sheet size.
Photo Credits
photo_camera

Keith Brofsky/Photodisc/Getty Images