What Is the Difference Between an Apple iPad Tablet & Other Brands?
by David Weedmark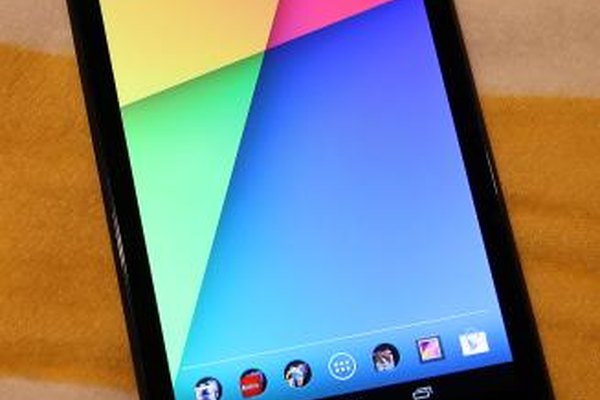 Every year, tablet manufacturers have their selling points in terms of resolution, weight, screen size and storage. Yet the biggest difference between tablets is often the software that runs it. Apple iPads use only the Apple iOS operating system. Tablets produced by other manufacturers usually use the Android operating system or Microsoft Windows. If you are buying your first tablet, the operating system should be your primary consideration. Apps, music and movies can't be migrated from one operating system to a new one. So when you upgrade to a new model, you will have to stay with the same operating system or lose everything you purchased.
Apple iPad
Known for its high quality standards, the Apple iPad is usually on the pricey end of the scale compared to other manufacturers. The iPad comes with a 9.7-inch display and the iPad Mini with a 7.9-inch display. All iPads use the same iOS as the iPhone and iPod Touch, with over 800,000 apps available from the Apple App Store and over 275,000 of those designed specifically for the iPad. Music, movies and e-books are available from iTunes. Any media you purchase from iTunes can be transferred to an iPad.
Android Tablets
Android tablets are made by several manufacturers, giving you more of a range in price and size. Android tablets are currently available in 10.6, 9, 7.9 and 7-inch displays. Apps for an Android tablet are available from Google Play, which currently offers over 670,000 apps; however, not all of these are designed for tablets. Android users can also get movies, music and e-books, usually at the same time and at the same prices as an iPad. Amazon's Kindle Fire and Barnes and Noble's Nook are both based on the Android operating system, however modifications by both companies may make the OS hard to recognize for anyone used to a Google Nexus or Samsung Android tablet.
Windows Tablets
Like Android tablets, many manufacturers make Windows tablets, including Samsung, Dell and HP. Microsoft also makes its own tablet, the Microsoft Surface. Microsoft offers two operating systems for its tablets. Windows 8 is the same operating system on desktops and laptops. Windows RT is a scaled-down mobile version of Windows, at a less expensive price. A newcomer to the tablet market, the Windows Store has only about 50,000 apps for its tablets, but this number is growing.
Comparing Platforms
A familiarity with one operating system over another can often be a factor in comparing tablets. If you have an iPhone or a Mac computer, an iPad may be a logical choice since the navigation will be similar and you can transfer your media to the new device, including most of your iPhone apps. Windows 8 users will find a Windows tablet nearly the same as a PC. Those who have a taste for innovation may prefer a tablet running Android, an open source operating system with frequent updates and lots of changes. While the number of apps available on any platform is a good indication of your options, these numbers are meaningless if a tablet doesn't offer the apps you want to use most.
More Articles
Photo Credits
photo_camera

Justin Sullivan/Getty Images News/Getty Images