How to Customize the iPhone Home Screen
by Aramenta Waithe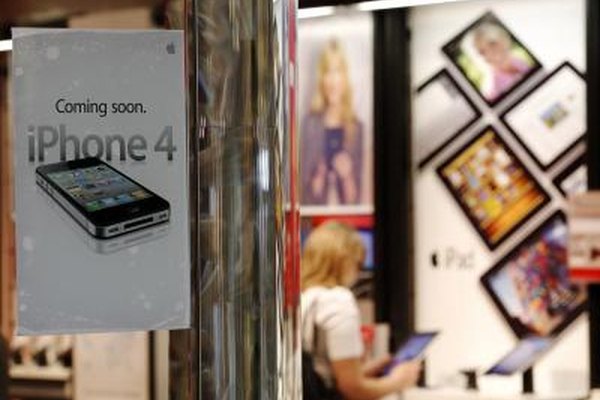 The Home screen is the screen that you first see when you turn your iPhone on. Along with the basic functions of the phone, the Home screen displays icons for the applications that are installed. Because iPhone applications are so plentiful, you may quickly reach the point where you have more applications than the Home screen can display. Although you can scroll to view more applications, you might find it more convenient to rearrange the Home screen so that it displays the applications you use most. You can also customize the Home screen by changing the wallpaper.
Rearranging and Grouping Home Screen Icons
1
Press the Home button on the front of the iPhone to return to the Home screen if you are using an application. It's the physical button at the bottom front of the phone.
2
Tap the icon for any of the applications displayed on the Home screen. Hold your finger in place until the icons swing back and forth and display "X" buttons in the corners. Remove your finger.
3
Tap and hold your finger on an icon that you would like to move. Slide your finger across the screen to drag the icon to a new location, and then lift your finger to drop it.
4
Drag an icon and drop it on top of another icon to create a new folder on the Home screen and group the two icons into it. Add additional icons to the folder in the same fashion. The iPhone automatically names the folder based on the applications you put into it.
5
Tap the name of a folder after creating it to enter a new name, if desired.
6
Press the Home button again to make the new configuration permanent.
Changing the Home Screen Wallpaper
1
Push the Home button to display the Home screen, and tap the "Settings" icon.
3
Tap the graphic showing images of the iPhone's Home and Lock screens.
4
Tap the picture that you want to use as the Home screen wallpaper.
5
Touch the photo and move it to change its centering on the Home screen. To change the size of the image, place your finger and thumb on the screen and pinch or expand them.
6
Tap the "Set" button and select the Home screen.
Tips
The iPhone 3G does not allow you to select whether you would like the background image to be for the Home or Lock screen. After selecting an image, tap "Set Wallpaper."

You can uninstall any application while customizing the Home screen of the iPhone by tapping the "X" button that appears in the corner of an application icon in Step 2. This removes the icon for that application from the Home screen.
References
More Articles