How to Customize My Browser's Toolbars
by Jane Buchanan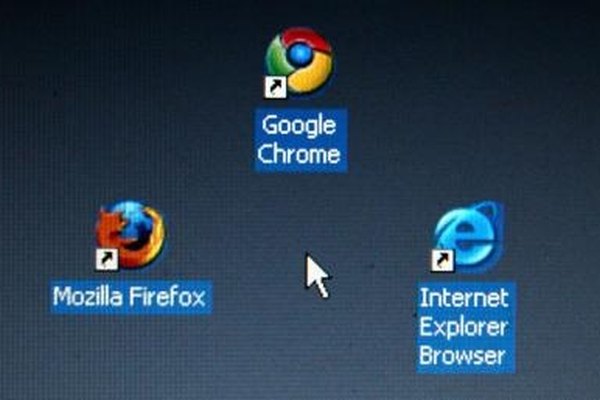 Reorganizing your browser's toolbars can help you save time by allowing you to access the buttons or bookmarks you use most frequently in less time. Most modern browsers, such as Internet Explorer and Firefox, allow you to add and remove toolbars as well as to rearrange them, among other options. Chrome, the browser developed by Google, has more limited toolbar customization options.
Internet Explorer
1
Activate or deactivate toolbars by right-clicking on one of the existing toolbars and selecting the toolbar you want to show or hide.
2
Reposition your toolbars by right-clicking on any toolbar and deactivating the "Lock toolbars" option. Move your cursor to the left of the toolbar you wish to move, then click and drag the toolbar to reposition it. Once satisfied with the position of your toolbars, right-click on one of them again and select "Lock toolbars" to prevent you from accidently moving them.
3
Customize your browser's Command bar by right-clicking on it and hovering your mouse over "Customize." The Command bar in Internet Explorer is the toolbar that contains the browser's basic commands, such as "Home" and the "Tools" menu. Several options appear, allowing you to display only text links, icons with legends or just the icons. Another option, called "Add or remove commands," allows you to add or remove buttons from your Command bar.
4
Move your bookmarks around on the Favorites bar by dragging their icons. You can also delete bookmarks by right-clicking on them and selecting "Delete."
5
Create a separate toolbar for your open tabs by right-clicking on any tab and selecting "Show tabs on a separate row."
Firefox
1
Show or hide Firefox toolbars by right-clicking on the empty area that is directly to the right of your open tabs. Activate or deactivate toolbars by selecting them from the contextual menu.
2
Add or delete icons and other items from your Firefox toolbars by right-clicking on the empty area next to your open tabs and selecting "Customize." This opens a window containing a list of buttons and separators that you can add to any toolbar. To add one of these items, drag it from the new window to any toolbar. To delete existing toolbar items, drag them from the toolbar to the window. This window also allows you to create a new toolbar by clicking on the "New toolbar" button, and to edit the way Firefox displays icons.
3
Restore your default Firefox toolbars, if needed, by right-clicking anywhere to the right of your open tabs, selecting "Customize" and clicking on the "Reset default set" button at the bottom of the window.
Google Chrome
1
Activate the Bookmarks bar by clicking on the wrench-shaped icon at the top right of the window, hovering your mouse over "Bookmarks" and selecting "Show bookmarks bar."
2
Hide the Bookmarks bar by right-clicking on it and deactivating the "Show bookmarks bar" option.
3
Reposition the icons belonging to extensions you have installed by clicking on them and dragging them to the desired location. Extensions are small applications that add new features to the browser.
Warning
close

Some viruses or other malware applications can sometimes add an extra toolbar to Internet Explorer or Firefox. Some of these toolbars are designed to redirect you to malicious websites or to display ads based on your browsing habits. You can usually remove them from your computer by using a reputable anti-virus application or the Windows Defender program.
Photo Credits
photo_camera

Alexander Hassenstein/Getty Images News/Getty Images