Creating an Open House Flier Template with Word
by Catherine Johnson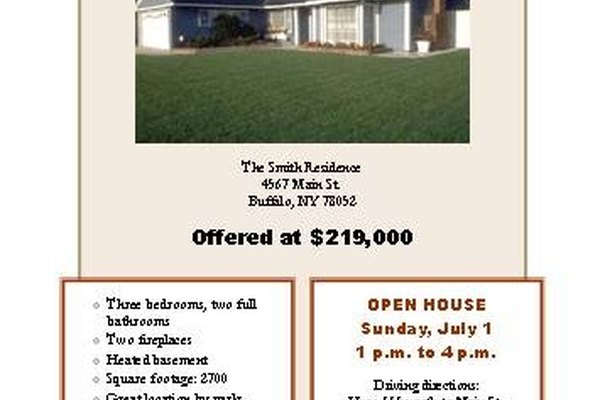 If you are a real estate professional who consistently presents open house events to showcase the homes you are selling, creating an open house flier template can be a useful tool. Microsoft Word offers a wealth of graphic design options that can be used to successfully create a custom, attractive flier for your event. By creating a template, you will be able to reuse the flier and simply plug in the information on each new house. In just a few steps, here is how you can create your own open house flier template with Word.
Open Microsoft Word. Go to "File" in the main navigational menu. Click "New Blank Document."
Create the title heading for your flier template. Use a large, readable block font in bold and type "Open House" at the top of your document. Experiment with different colors, font styles and sizes to effectively create an eye-catching title. Be sure to keep your title aligned to the center of the flier.
Go to "Insert" in the top navigation menu and select "Pictures," then "AutoShapes." Draw a large rectangle below your flier title. When you use this template in the future, this large rectangle will be where you insert the picture of the house. Fill the rectangle with a dark neutral color that can provide a nice background border to your photo.
Below the rectangle that will hold your photo, enter the selling price of the house. Use the same bold font style and color that you used for the flier title, but make the font here a few sizes smaller. Align your selling price in the center of your document.
Go to "Insert," scroll down to "Pictures" and select "Autoshapes" again. Insert two equally sized rectangle boxes into your document. The rectangles should fit next to each other on the bottom half of the document like two equal columns. Do not fill these rectangle columns with color. Leave the shapes with a thin border to define them.
In the left column, enter all of the amenities and features of the house. Use bullets and list each amenity on a separate line so that it is easy to read. In the right column, list all of the information for the open house. Be sure to include the house's address, the day and time of the open house as well as any relevant contact information.
Once you have customized and designed your flier to your satisfaction, go to "File" and click "Save as." Enter the name you want to use to save the file. In the "Format" drop-down menu, select "Word Template." Then click "Save."
To use your template, go to "File" and click "Project Gallery." Select "My Templates" and choose your Open House template. A new document will open based upon your template.
Tip
check

When creating your own template, be sure to take the time to experiment with the many graphic tools Word has available. Creatively using fonts, colors, custom shapes, borders and shading can help you to make a highly effective flier. Always double-check the readability of your flier. Use colors that highly contrast with each other so that people can easily read and understand the information.
More Articles