How to Create a Template for Labels
by Contributor

Creating a template for labels will save you money and help you personalize items. Labels add a personal touch or can increase the efficiency of inventory tracking. Labels can add professionalism or they can add uniformity. There are a variety of ways to create the type of label you want and need.
How to Create a Template for Labels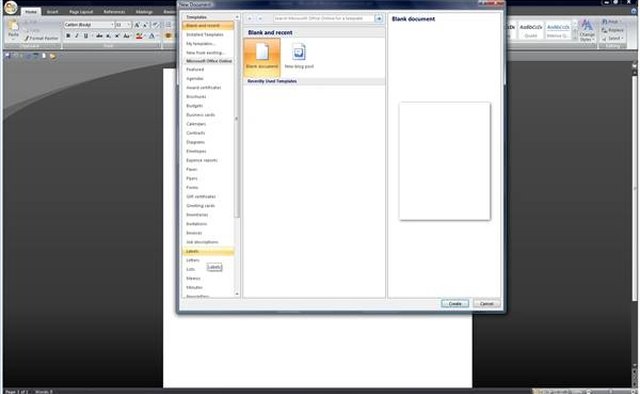 If you are using Microsoft Word, download templates from the Microsoft website at office.microsoft.com (see link in Resources). These templates offer an easy way to make your own labels but will also give you the opportunity to modify the templates for your own use.
You may make your own template from scratch using Microsoft Word. At the top and on the edge are measurements that will help you gauge the location of the parts of the label. When the label looks the way you desire in this program (by changing the fonts, locations, adding pictures, etc.), simply click the icon to select "Save As" and then select "Word Template." Name the document under "File Name" and then click "Save."
Using OpenOffice.org software gives you a few templates to choose from, though the selection is more limited than in Microsoft's Word Program. To overcome this, it is simple to go to the website at Worldlabel.com and to download the file and then "Open With" the software. The template is then modified and used as needed.
Other templates can be created with GIMP. The template is made by estimating the width of the Label you need to make. When you first open GIMP, click "File" and "New." On the drop-down list, select the drop-down list next to template and modify the template, according to your needs, to save as a new template.
If the templates in GIMP are not adequate for your needs, create one by selecting "New" and then select the drop-down box to change the selection from pixels to inches or millimeters as desired. Change the numbers where width and height are listed in separate boxes.
Tip
check

Labels should be printed on a medium that will readily stick to the product or that you are willing to tape to the product. If desired, once the label is designed with your new template, you may go to a professional printer to create your labels. The quality of the ink and the paper will make the label last longer but plain paper can be used to create a label inexpensively for personal use which you can tape into place.
Warning
close

Follow all laws and do not violate copyright, trademark or other rights of other artists and companies.
References