How to Create a Podcast
by Jane Buchanan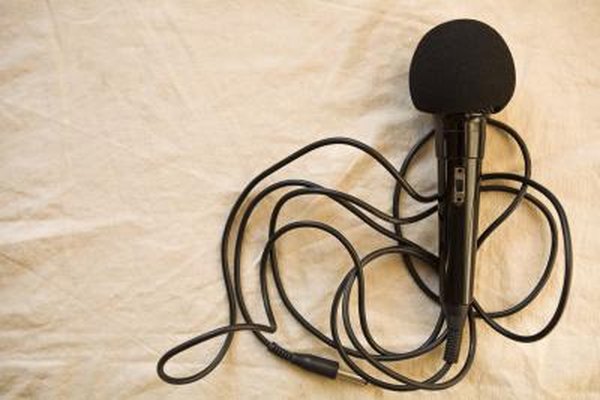 Creating your own podcast allows you to speak directly to a wide audience and share your thoughts, opinions or passions with them. Podcasting has increased in popularity with the advent of mobile devices that allow listeners to enjoy their favorite podcast while on the go. Be a part of this worldwide phenomenon and create your own podcast by purchasing some basic audio equipment, using your computer to record and edit your podcast, and publishing it on the Internet.
Hardware and Software
1
Purchase one or several microphones, depending on the number of presenters or guests you're planning on having. Headsets or basic computer microphones designed to be used with a webcam may be cheap, but may muddle your voice and pick up any background noise. If you can afford it, purchase either a good USB microphone or one with an XLR connector. Examples of quality USB microphones include the Rode Podcaster Dynamic Mic, recommended by Dan Benjamin, founder of the 5BY5 Internet broadcasting network, and the Blue Microphone's Snowball USB Microphone, favorably reviewed by the Premier Guitar website. XLR microphones, designed for professional broadcasters, need an audio interface with an XLR connector. Examples of quality XLR microphones, according to Dan Benjamin, include the Heil PR-4 and the Rode Procaster Dynamic Mic, while the Yeti Pro, which is both a USB and XLR mike, is recommended by the Technology Tell site.
2
Buy a pair of headphones that offer good sound insulation. Wearing headphones while recording a podcast allows you to hear your own voice or the voice of other presenters or guests, while preventing the audio feedback from being picked up by the microphone.
3
Install an audio mixing application and, optionally, purchase an analog mixer. Analog mixers are electronic devices that allow you to mix audio in real time, which makes them the perfect choice for live podcasts. Dan Benjamin recommends the Mackie Onyx 820i and the Mackie Onyx 1220i, while Music Tech Magazine suggests the Alesis Multimix 8 USB FX. Audio mixing applications, also known as digital mixers, are programs which you have to install on your computer. Most digital mixers do not allow you to mix audio in real time, but they can record your voice as a sound file, and help you fine-tune your final mix by creating sound layers and dragging-and-dropping sound bites on a timeline. Popular audio mixing applications include Audacity and Wavosaur, which are both free, and Mixcraft.
Recording and Post-Production
1
Connect the microphone to your sound card if you are using a digital mixer. If using an analog mixer, connect the microphone to one of its audio input connectors and connect the mixer to your sound card.
2
Launch your audio mixing application and click on the "Record" icon.
3
Start talking. If you are using an analog mixer, use its potentiometers to open or close audio channels or to increase and decrease their volume.
4
Click on the "Stop" icon in your audio mixing application to stop recording.
5
Click on "File" and select "Save."
6
Mix your podcast sound file on your computer, if you have not premixed it with an analog mixer. Digital mixing applications contain several tools for creating professional-sounding podcasts. One of the most powerful features of these applications is the timeline. By dragging sound clips on the timeline, you can conveniently add, delete or rearrange segments. Most digital mixers also let you add various effects, such as fade-in or fade-out, to your podcast. Finally, most audio mixing programs allow you to adjust the loudness of individual segments and to partially remove background noise. Read your application's documentation to learn more about its specific features.
7
Open your digital mixing application's ID-3 tag editor. ID-3 tags contain metadata which help users and applications identify the content of an audio file. Enter an accurate description of your podcast in the fields. Examples of ID-3 fields include the name of the author of the audio file, its title and its release date.
8
Save your final audio file either in MP3 or WAV format. WAV is a lossless format that produces high-quality audio files. However, WAV files tend to be much larger than MP3s. Your listeners might have to wait longer when downloading a podcast that uses a WAV audio file rather than an MP3 one.
Publishing
1
Upload the MP3 or WAV file containing your podcast to a Web server. Be mindful of the fact that if your podcast becomes popular, your server will need adequate bandwidth.
2
Post a download link pointing to the audio file on a dedicated section of your website. While this is by far the most basic publishing method, it requires almost no setup and allows you to share your podcast with the world in no time. A slightly more advanced technique consists of embedding an audio player on your site so that your listeners can stream the file instead of having to download it first.
3
Create a Really Simple Syndication (RSS) feed and submit it to podcast aggregators such as iTunes, Zune Marketplace or iPodderX. These services allow potential listeners to browse for podcasts and download them on various devices. To create an RSS feed, create a new post on a blogging platform such as WordPress.com or Blogger, and paste a link to the audio file by using the platform's "Insert media" tool. Copy the URL address of your blog and visit the FeedBurner site (see Resources). Log in to the service by using your Google account credentials, then paste your blog's URL address in the "Burn a feed" field. Activate the "I am a podcaster" check box and click on "Next." Name your feed and click on "Next" again. The next window contains the URL address of your feed; submit that URL address to iTunes, Zune Marketplace or iPodderX to add your podcast to their catalog.
Tip
check

FeedBurner, in addition to helping you create RSS feeds, also allows you to track the number of people who have actually opened your feed.
Warning
close

Do not insert copyrighted material into your podcast, with the exception of material falling under the fair use exemption. Fair use allows you to use copyrighted material as long as the usage fulfills specific criteria, such as using a short portion of a song for criticism purposes. Refer to an attorney if you are unsure whether you can invoke the fair use exemption.
Photo Credits
photo_camera

Jupiterimages/Polka Dot/Getty Images