How to Create a Newsletter in Photoshop
by Daniel Ketchum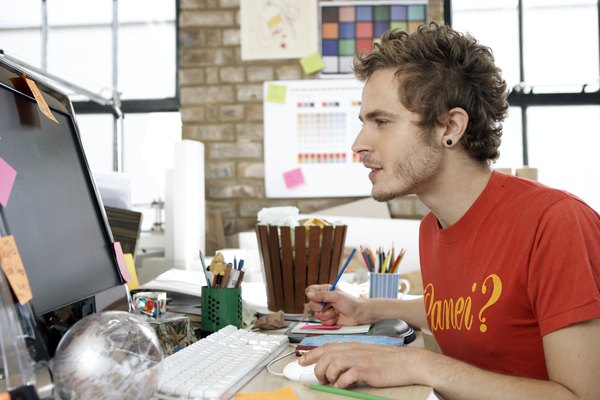 While some businesses, churches, clubs and associations hire someone to produce their newsletter, most groups keep the production in house. To produce a competent newsletter, you need a high-quality graphics program, even if your newsletter has only one page. If you have access to Adobe Photoshop, the industry standard, you have all you need to make a professional-looking newsletter.
1
Load any images you want to use in the newsletter onto your computer and save them all to the same folder. Add a date to the name of the folder so you will know the images in it are for the current edition of your newsletter.
2
Use a word-processing program to type all of your text for the newsletter. For efficiency, save each article as a separate document. Make sure you run checks for both spelling and grammar.
3
Open Photoshop. Select "File" from the menu and click "New." In the dialog box that pops up, change the increments from "Pixels" to "Inches," then make the width and height what you want for your newsletter. For example, you might choose to print your newsletter on standard paper, in which case you would enter 8.5 for the width and 11 for the height. Change the resolution to "300 dpi" and click "OK."
4
Select the "Rectangular Marquee" tool and use it to select the area of your newsletter where you don't want a border. Then click "Selection" from the menu and click "Inverse." Select the "Paint Bucket" tool from the middle of the toolbar. In the Paint Bucket options, change the color to what you want. Use the tool to fill the selection with the color.
5
Select the "Text" tool from the toolbar (it has a "T" on it) and draw on a text bar where you would like to place some of your text. Copy the article text from your word-processing program and paste it into the text box. Highlight the text and in the options at the top change the font style, size and color to what you want. Repeat this step to place all of your articles.
6
Select "File" and click "Open." In the dialog box, browse to one of the images you want to use in the newsletter and open it. Then use the "Copy" and "Paste" function under "Edit" to place it in the newsletter document. Use the "Scale" and "Move" tools to place the picture where you want it. Repeat this step to place all of the images for the newsletter.
7
Select "File" and click "Save." In the dialog, name your file and save it as a JPEG for printing. Saving as a JPEG automatically flattens the image to a single layer.
References
Photo Credits
photo_camera

Ciaran Griffin/Lifesize/Getty Images