How to Create Animations in PowerPoint
by Katelyn Kelley

Microsoft PowerPoint is a piece of software from the Microsoft Office suite that enables you to easily create professional-looking slide and movie presentations with a Macintosh or Windows operating system. The presentations can incorporate text, graphics or other multimedia, such as animation, and share objects with other Microsoft Office applications. Slide animation is very easy to do with the PowerPoint built-in tools. You can animate text or other objects embedded on the slide with simple point-and-click commands.
Custom Animation
1
Open PowerPoint and start a new presentation.
3
Choose a slide layout that gives you room for the animation you want to create.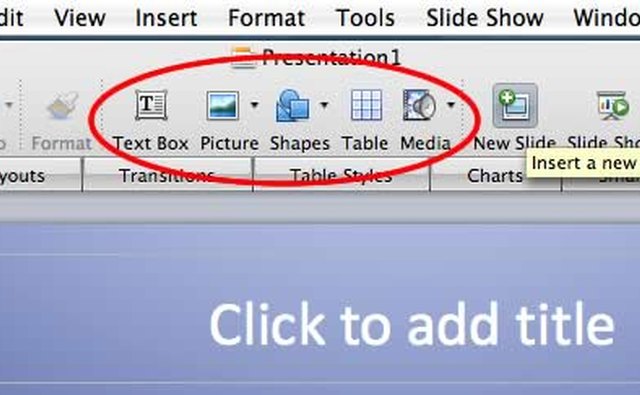 4
Add the objects that will be animated to the slide using the insert object buttons at the top of the screen, the "Insert" menu or the "Insert" tab (PowerPoint 2007).
5
Click on the object you wish to animate.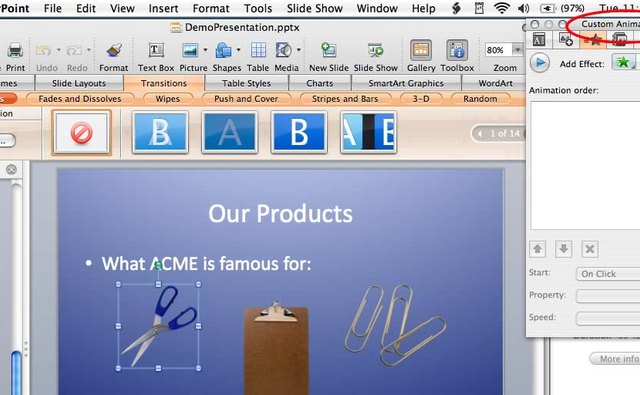 6
Go to the VIEW menu and choose "Custom Animation" (or "Animations" tab---Custom Animation in PowerPoint 2007). The Custom Animation palette will open on the right side of the screen.
7
Choose options from this palette according to how you want the object animated. The "Add Entrance Effect" (or "Exit Effect") governs how the object will enter or leave the slide. "Add Emphasis" allows you to make the object blink, spin, grow, shrink or otherwise change its appearance for emphasis. "Motion Paths" (available only in some versions of PowerPoint), allows you to click and drag a custom path for the object to follow.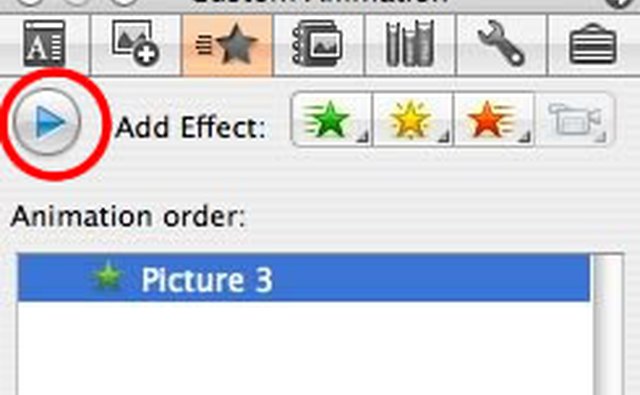 8
Use the "Play" button (blue or black triangle) in the Custom Animation palette to preview the animation you've defined.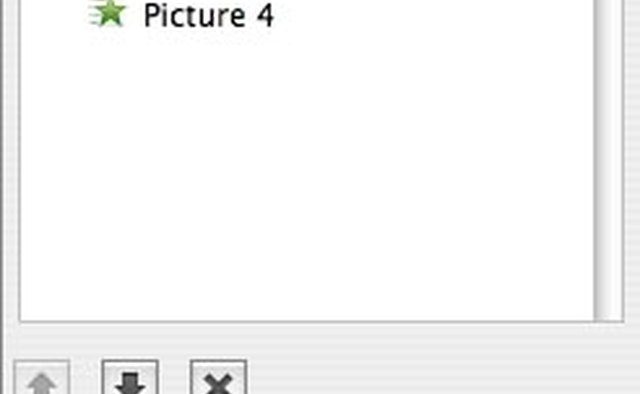 9
Repeat steps 5 through 8 to animate additional objects on the same slide or other slides. The order the animations play is controlled by the Custom Animation palette as well. As each object's animation is defined, it is listed in the palette with labels like Picture 1 and Picture 2, and they will play one after the other, starting at the top.To change the order, click and drag the list items to new positions.
Tip
check

Always test your animations and your entire presentation before showing it to a live audience.
Warnings
close

Text boxes on PowerPoint are treated as one object. If you animate that object, all the text moves together.

close

If you save your PowerPoint presentation as a movie file (.mov), object animations will not play.
More Articles