How to Connect an iPhone to Wi-Fi to Use as a Phone
by David Weedmark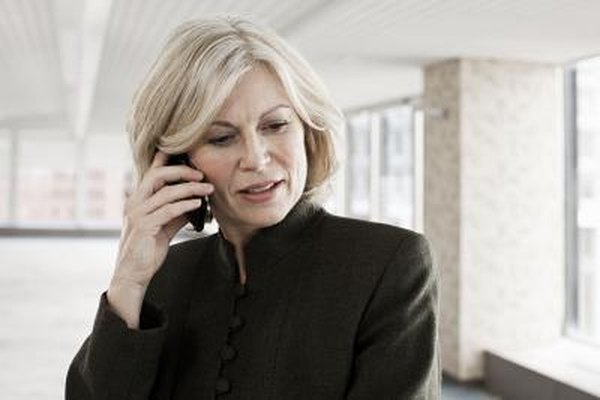 With an Apple iPhone, there's no reason to go over your monthly cell phone budget to make phone calls or to send text messages provided you have reliable access to a Wi-Fi network. Apple FaceTime and iMessage come pre-loaded on your iPhone's iOS 7 software, which give you the ability to call other iPhones and Apple devices over Wi-Fi. To call other phones, like Android phones and landlines, there are several apps to choose from from the iPhone's App Store.
Connecting to Wi-Fi
To connect to a Wi-Fi network on an iPhone, launch "Settings" from the home screen and then tap "Wi-Fi." After turning the "Wi-Fi" On/Off toggle to the "On" position, you can select from a list of Wi-Fi networks available in your current location. Enter the password when prompted and the iPhone will remember this network the next time you are in this same location. The Wi-Fi network must have an active Internet connection if you want to make calls or send messages.
Using FaceTime and iMessage
Using the FaceTime app, you can rely solely on Wi-Fi to make voice and video calls to anyone who also has FaceTime an Apple iOS device or Mac. In the iPhone's Settings, select "FaceTime" to activate FaceTime voice and video calls. You will also need to add the Apple ID email address or iPhone phone number each person you want to communicate with in the Contacts app. To send Wi-Fi text messages to people with iOS devices or Mac computers, enable iMessage in Settings. When you send text messages to these people with the Messages app, the iPhone will use Wi-Fi instead of your cellular service.
Calling Other Numbers
Because FaceTime and iMessage work only with Apple products, you will need to install a third-party app if you want to call landlines or people with other cell phone brands. Skype and Google Hangouts with Google Voice are options and may be ideal choices if you already have accounts to make video calls from your computer. Other apps like iCall or Text Now Plus Voice also give you the ability to make voice calls and send text messages via Wi-Fi from your iPhone. Depending on the types of calls you make, you may have to purchase a monthly plan or calling credits, but the expense usually works out to pennies per minute.
Suspending Cellular Data Service
If you have an active cellular service plan for your iPhone, it may resort to using cellular wireless when using third-party phone and messaging apps -- even when you think it's using Wi-Fi. This can happen, for example, if the Wi-Fi network is too slow to accommodate the bandwidth required for voice or video calls. To be certain your iPhone relies only on Wi-Fi, disable cellular services by launching "Settings," selecting "Cellular" and then turning off the Cellular Data option.
Disclaimer
Information in this article applies to iOS 7. It may vary slightly or significantly with other versions or products.
References
Photo Credits
photo_camera

Image Source/Digital Vision/Getty Images